Girls Aloud's Nicola Roberts is fronting a new fashion campaign with a difference to raise money for Alder Hey Imagine Appeal.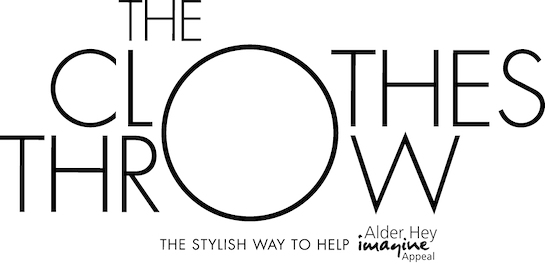 The Girls Aloud star turned solo artist revealed how pleased she is to support Alder Hey, "I am really excited to be fronting the Clothes Throw 2011 campaign! I'm an avid supporter of Alder Hey Imagine Appeal. I visit Alder Hey and the patients there really touch my heart."
The Clothes Throw is in its third year but has been able to expand greatly with the help of Liverpool ONE. Alongside Nicola a host of celebrities and retailers have donated clothes and accessories to raise money for the children's hospital.
Daniel Craig has donated his suit from the Casino Royale tour; Sienna Miller and Dame Shirley Bassey are also amongst some of the celebrities while Liverpool ONE retailers including Imagine Patron Kirsty Doyle, Jones Bootmakers and John Lewis have donated to the Clothes Throw.
Nicola explained that anyone can get involved,"There are three ways you can help with the Alder Hey Clothes Throw: donate clothes, hold your own Clothes Throw party or attend any of the official Clothes Throw events in Liverpool ONE.
"Everyone can help by finding something in their wardrobe they no longer wear and donate it."
Before the campaigns even launched, a number of the charities followers on Twitter have already signed up to hold their own Clothes Throw parties. The idea is that it's swishing with a heart. A guilt free way off updating your wardrobe while giving some previously loved items that may no longer fit a new home.
The Clothes Throw is very "now" in the age of austerity; vintage is massively on the rise as is the customisation of clothes and accessories.
People can sign up to hold their own Clothes Throw parties at home, work, or larger venues buying their no longer worn clothes and accessories from each other.
Fashion expert Joanne Watkinson, Womenswear buyer for my-wardrobe.com who personally supports Alder Hey Imagine Appeal explained, "The Clothes Throw is the perfect guilt free indulgence, combining fashion, shopping and celebrity and all for an amazing charity, I can't think of a better reason to get involved!
"Everyone who signs up to throw a party will receive a Clothes Throw party pack with everything they need to know about throwing the perfect fundraising party. The pack also includes "The Clothes Throw Style Bible" a short publication edited by fashion insiders delving into other people's wardrobes looking celebrities of all ages, Autumn/Winter 2011 wardrobe essentials from those who grace the catwalks at international fashion shows and shopping for vintage tips for men and women.

Chris Done, Senior Fundraising Manager for Alder Hey Imagine Appeal added, "To have the support of Nicola Roberts and Liverpool ONE is amazing for us. They are the perfect partners to help us expand the Clothes Throw. Alder Hey is the first choice provider of care for more than 80% of the UK's healthcare commissioners and we are responsible for the health of more children than any other UK hospital.
"We hope the whole of the UK will get behind us and we'd love to see Clothes Throw parties popping up all over the country! Every pound and penny raised from The Clothes Throw will go directly to the Alder Hey Imagine Appeal."
Alder Hey, Europe's busiest children's hospital, provides family-focused care for around 250,000 young patients every year and is responsible for the health of more children than any other hospital in the UK.
Alder Hey Imagine Appeal was launched in October 2005 with the support of Yoko Ono, who is Honorary Patron of the charity. It aims to support the pioneering work of the hospital by funding research, improving the environment and providing facilities for patients and their families and buying the very latest medical equipment.
There will be an official week of Clothes Throw events in October in Liverpool ONE's Palm Sugar and a pop-up Clothes Throw shop in a secret location in Liverpool ONE. The week will be a series of glitzy catwalk shows, fashion workshops and the chance to buy some amazing clothes!
To find out more information or to support the Clothes Throw, click here.