Sculptor Louise Giblin and five Olympians led by Beth Tweddle MBE are collaborating for charity.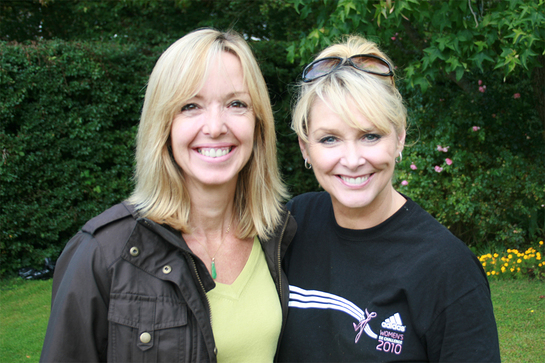 Louise Giblin with Cheryl Baker
World-leading bodycast sculptor Louise Giblin's Olympian Series will raise money for Cheryl Baker's HeadFirst Charity.
With recent events in the UK causing us to consider the place of role models in our society, it is encouraging to hear that five Olympian heroes have offered to be models for one of the world's leading bodycast sculptors and to permit a share of the proceeds to go to charity.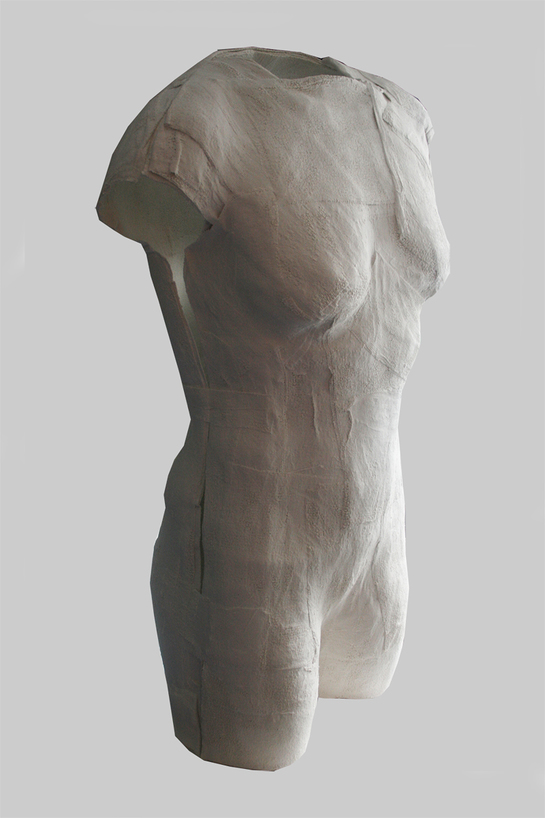 Dame Kelly Holmes Bodycast
Five Olympic and World medal winners have offered to act as models for Louise Giblin. Current World Champion Gymnast Beth Tweddle MBE was a particular coup as she is intensely preparing at present for her bid for gold in next Summer's Olympics. Beth and Dame Kelly Holmes, Kriss Akabusi MBE, Sally Gunnell OBE, and Paralymic quadruple medallist swimmer Darren Leach have all offered their torsos to be coated in a plaster-impregated bandage and a body cast made.
The work is produced by clay being placed in the plaster moulds, the resulting positive copy of their body cleaned of plaster prior to the modelling of their backs to represent a stylised musculature and an application of a design relating to what they consider to be their greatest triumph on the front of their torsos.
Beth Tweddle MBE Bodycast
For Kriss Akabusi this is his 1984 Olympic Silver at Los Angeles – and the design will include personal references including one of his favourite spikes, photos he has chosen of the competition, his Warrant Officer's badge and the words, 'Dream Big'. In Beth Tweddle's case, her piece is inspired by her World Championship Gold success at the O2 Arena and Louise is delighted to be developing the London theme with a hotly tipped athlete taking part in London 2012.
Four of the five have now been body cast with Sally Gunnell OBE's session scheduled for October.
The process is a skilled and painstaking one. After the clay piece is completed it is left to dry, fired to 1080 degrees centigrade, primed and delivered to Lorriane Grandi at Creative Art Casting studio where moulds are produced using silicone, fibre glass and resin. The final pieces are cast into these moulds using metals such as bronze and aluminium in powder form mixed with resin. These are designed to last for 150 years and have an asking price of around £10K each. Bronze sculptures that have an estimated life of 3000 years can also be cast to order with a retail value of £30K.
Louise's work has already doubled in value over the past 3 years and owning her work is rapidly becoming a worthwhile investment. Beth and the others will be offered one of the works to own or to sell for charity and 10% of the sale of the works will be given to the work of Headfirst (who work with victims of brain damage) whose Patron, former Bucks Fizz singer and TV personality Cheryl Baker is a friend of the Sculptor and who will be acting as a model for Louise herself next year.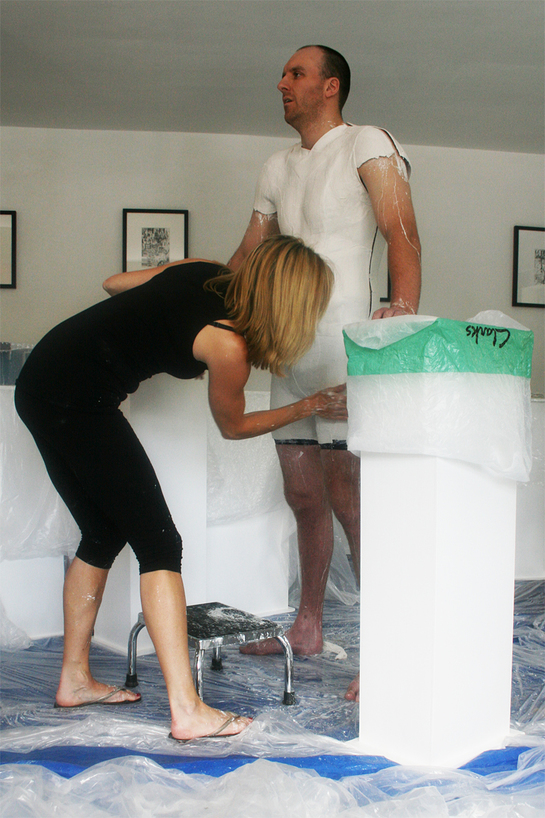 Darren Leach
Although originally inspired by the launch of next year's Olympics in London, Louise is aware that the example set by these five Olympians is likely to provide a very positive role model for young people emerging from some of the communities ravaged by disaffected individuals in the UK's major cities.
Kriss Akabusi was the first to pose in the series in July and Louise was delighted to start with someone who contributed so much goodwill and humour to the enterprise. Kriss loves the cause behind the project but also sees the funny side, "Having my chest shaved to make it smooth as a baby's bottom and being stuck in a cast for an hour or so are a small price to pay to have my body image preserved for time and eternity – so I'm very excited to see the finished article."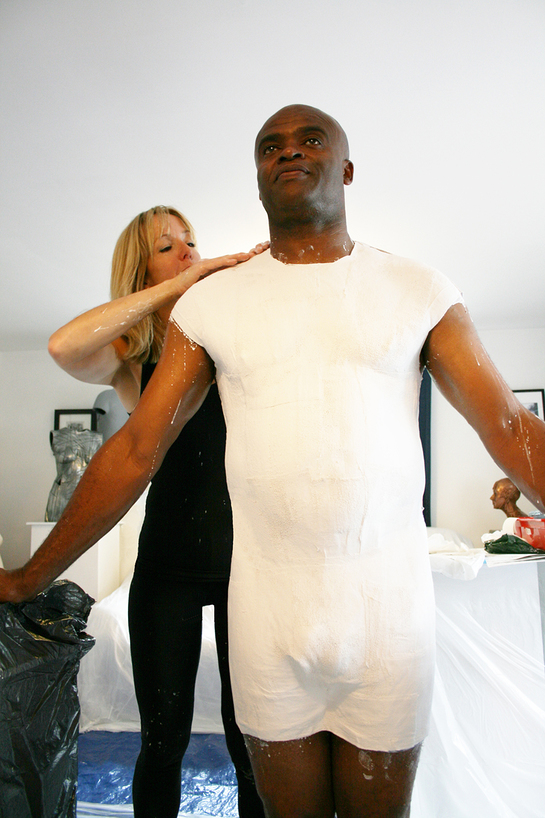 Kriss Akabusi being bodycast
Gymnast Beth Tweddle found the modelling inspiring, "It was an amazing experience with some funny memories to keep forever. The memories and the photos of the finished work will be treasured forever. I like the fact that my achievements can make a real contribution towards this worthwhile charity."
As Louise says, "My art explores human form and personal focus so I love working with sportsmen and women. I admire their physical strength and determination to succeed. London 2012 is a great opportunity to create a British Olympian and Paralympian series and to raise a substantial amount for charity. These models cover a wide range of sports and identities – male/female, black/white, able-bodied/physically impaired with a range of heights up to 6'7'' and ages from 20s to 50s. Unifying them is the fact that none come from privileged backgrounds and that they all have talent, single-minded determination and a pride in representing Britain. It's good to celebrate positive British spirit right now. The Games are an opportunity to show how the British do things well. We need heroes as people to look up to, who inspire young people in particular to think bigger and better. The heroism of people who have recovered from brain injury or stroke is another inspiration – hence the partnership with Headfirst."
Louise Giblin's 'Olympian Series I – Kriss Akabusi MBE' will be unveiled at the prestigious Edinburgh Art Fair in November with the remaining pieces being launched in London next May at the recently refurbished East Gallery in the Mall Galleries to coincide with the launch of the Olympic torch relay – and at separate shows including Saffron Gallery, Battle and Cheshire Art Fair in 2012.