On Saturday night, Vanguard Cancer Foundation hosted "Cancer is Not Contagious but Laughter Is!," an evening honoring the work of Robert Nagourney, MD, founder of Rational Therapeutics in Long Beach, CA.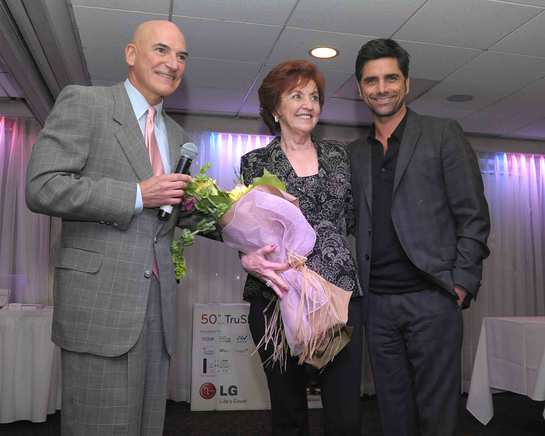 More than 300 guests, many of them cancer survivor patients of Dr. Nagourney's, enjoyed an evening with special guest actor John Stamos, whose mother Loretta Stamos (also pictured above) founded Vanguard. Comics Allen Stephan, Craig Shoemaker, Jimmy Brogan and Frazer Smith rounded out the evening's fun.
Founded in 1995, Rational Therapeutics is a pioneering cancer research laboratory specializing in personalized cancer care. The results of their Ex-Vivo Analysis—Programmed Cell Death (EVA-PCD) platform create a functional profile of a tumor's sensitivity and resistance to various drugs and combinations. With this profile, an oncologist is equipped with the most accurate information to treat an individual's cancer.
Founder, Robert A. Nagourney, MD, an oncologist and hematologist, began researching cancer's biology more than 25 years ago. His goal is to predict which treatments work best with the least toxicity to patients. Through his innovations, he has pioneered the art and science of personalized cancer care. To learn more, visit www.rational-t.com or Facebook and twitter @RobertNagourney.