Who can resist the adorable faces of turkeys gobbling for compassion at Thanksgiving? Not Ellen DeGeneres. That's why she's back for the second year in a row to serve as Farm Sanctuary's Adopt-A-Turkey Project spokesperson, inviting everyone to save, not eat, a turkey this holiday season.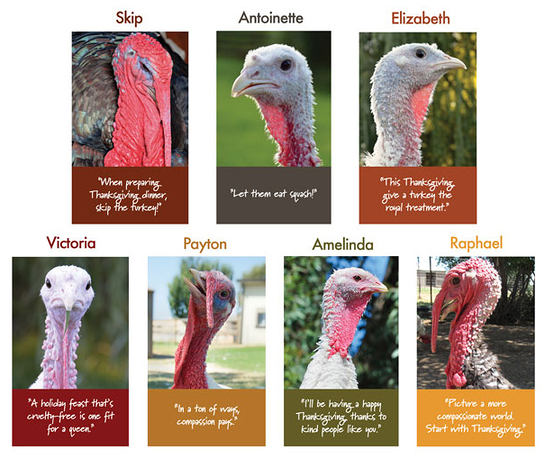 "Did you know that every year between 250 and 300 million turkeys are bred for slaughter in the United States?" asks Ellen. "More than 46 million for Thanksgiving alone. So, this Thanksgiving instead of eating a turkey, please join me in adopting one from Farm Sanctuary's Adopt-A-Turkey Project and you can give a turkey something to be thankful for."
For 25 years, the Adopt-A-Turkey Project has put smiles on the faces of both carnivores and vegetarians alike, while providing support for the care of more than 1,000 rescued turkeys and inspiring people everywhere to make more compassionate choices. For a one-time donation of just $30, adopters or a recipient of their choice will receive a special Adopt-A-Turkey certificate complete with color photo of a rescued turkey who resides at one of Farm Sanctuary's shelters and fun details about their adopted turkey.
This year's irresistible flock of "adoptable" turkeys include Skip, who advises prospective adopters "When preparing Thanksgiving dinner, skip the turkey!;" Antoinette, who declares "Let them eat squash!;" Elizabeth, who demurs "This Thanksgiving, give a turkey the royal treatment;" Victoria, who proclaims "A holiday feast that's cruelty-free is one fit for a queen;" Payton, who counsels "In a ton of ways, compassion pays;" Amelinda, who reveals "I'll be having a happy Thanksgiving, thanks to kind people like you;" and Raphael, who pleads "Picture a more compassionate world. Start with Thanksgiving."
"We're thrilled to have Ellen's support again this year," says Farm Sanctuary President and Co-Founder Gene Baur. "Here at Farm Sanctuary, we live with turkeys, so we know they are interesting and intelligent and have complex emotional lives like dogs, cats and other animals. Sadly, the meat industry subjects turkeys to intolerable cruelty and treats them like inanimate objects with no feelings or personalities. Fortunately, each one of us can choose not to support this cruelty by adopting a turkey at Thanksgiving instead of eating one."
You can learn more about Thanksgiving's toll on turkeys here.
To join Ellen DeGeneres in starting a new tradition by adopting a turkey instead of eating one and to view this year's "adoptable" turkeys, visit adoptaturkey.org or call the Turkey Adoption Hotline at 1-888-SPONSOR.
Farm Sanctuary, the nation's leading farm animal protection organization, promotes legislative, policy, and individual lifestyle changes to help farm animals. Farm Sanctuary's shelters in New York and California provide lifelong care for nearly 1,000 rescued farm animals.