North Shore Animal League America spokesperson Beth Stern and her husband Howard Stern have generously donated their time and love in support of creating a one-of-a kind 2012 calendar showcasing the precious, healthy canines and felines that can be found in local shelters.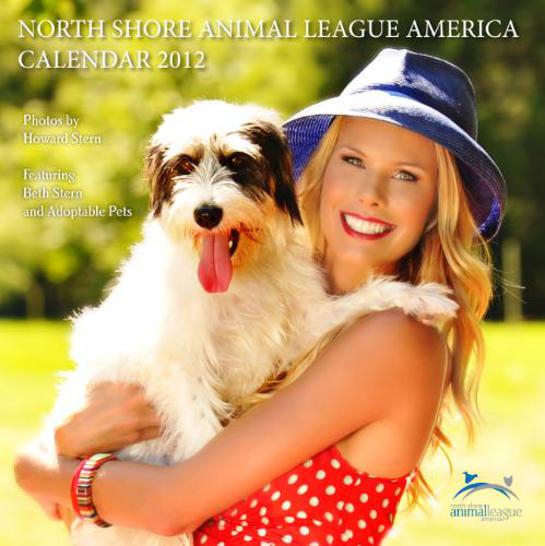 With each turn of the calendar page, animal lovers are welcomed by beautiful and colorful images of Beth and many adoptable and lovable Animal League shelter pets, known as Mutt-i-grees, photographed in a variety of unique settings by Howard.
These stunning wall calendars make perfect holiday and birthday gifts, and each purchase will help the Animal League take one step closer to its next one million animals saved. Calendars are priced at $19.95, and can be purchased at www.AnimalLeague.org/BethCalendar. Shipping and handling are included.
"Howard and I have found that our Bulldog Bianca, and adopted cats Walter, Apple and Leon Bear, enrich our lives so much. We wanted to show our support for the many wonderful animals that can be found in shelters and through rescue groups," said Beth Stern, Animal League spokesperson. "It is our hope that everyone considering an addition to the family next year will visit a local shelter and open their heart to a Mutt-i-gree; each adoption is another animal life saved."
In this 2012 Animal League calendar, Howard creatively captures the heart and soul of Beth and animal friends Carson, Cooper, Lucy, Griffin, Fiona, Nemo, Liza, Suzi, Twister, Miley, Magdelena, and Hope and her puppies. Also included in the portfolio are images of the Stern's dog, and their three cats who were adopted from the Animal League.
Purchases of this unique calendar will help save animals' lives and benefit the advancement of the highest standards in animal welfare.
To purchase the 2012 North Shore Animal League America calendar or to see the beautiful selection of pets available for adoption, visit www.AnimalLeague.org.