Madness frontman Suggs will follow in Olly Murs and Beverley Knight's footsteps by launching this year's Christian Aid Big Christmas Sing.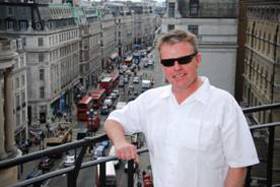 Kicking off the nationwide fundraiser, Suggs is hosting and performing at a free concert where he will be joined by other high profile artists. He's encouraging others to warm up their vocal chords and join in this year's Big Christmas Sing, taking place on 9-11 December.
The annual Big Christmas Sing invites everyone who loves a good sing-a-long to Christmas hits, past and present, to raise money for Christian Aid. Events are diverse as they are festive, including everything from classic carol concerts to karaoke with colleagues. It's easy to get involved, and it's good fun too.
Last year 500 events took place across the country – from Truro in Cornwall to the Isle of Skye – raising over £80,000 for people living in some of the world's poorest communities. This year's is set to hit all the high notes and be bigger than ever.
"The Big Christmas Sing is a great way to get into the festive spirit and have fun while raising money for a good cause," said Suggs. "There's nothing like the Christmas classics that everyone knows and loves, so follow in our footsteps and organise an event of your own or find one taking place near you. If you rock the mike, the donations will roll in!"
Anyone can hold a Big Christmas Sing and people all over the UK are encouraged to invite friends and family to their own event at home, school, work or in a local pub or community hall. Everyone who registers at www.christianaid.org.uk/bigsing will receive a free fundraising pack containing guidelines, tips on how to hold a Big Christmas Sing, publicity posters and access to downloadable song sheets.
The free concert starring Suggs will take place at Old Spitalfields Market, London on the 9th November. As well as other well known acts, local choirs and groups will also be performing, including an all-female string quartet. Completing the line up are local primary school children singing their favourite Christmas classics. The concert will start at 5.30pm and everyone is welcome. The artists will also be turning on the market's Christmas lights.
Suggs will be touring London with his One Man Show at Christmas, for more information click here.