Justin Bieber is auctioning the pet baby boa constrictor he shared the stage with at the 2011 MTV Music Awards in August for charity.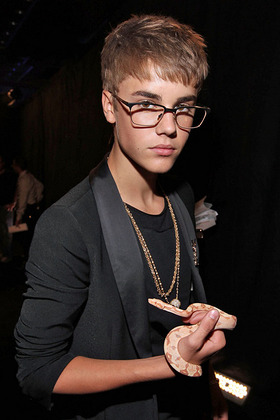 Photo via CharityBuzz.com
The snake – known as Johnson – is being auctioned by Bieber to benefit Pencils of Promise (PoP), a charity that builds schools in the developing world and trains socially conscious young leaders to take action at home and abroad.
Please Note
Keeping a pet snake is a long term responsibility. Before making any decision about keeping one please ensure you have the money, space, knowledge, time, resources and enthusiasm required to properly care for the species you intend to keep, for the duration of it's life.
The winning bidder will be screened upon the close of the auction. The welfare of this snake is the sole responsibility of the adopter. The adopter agrees to give the snake good care which includes quality premium food, fresh water, sanitation and grooming, clean and secure indoor housing, clean and secure outdoor housing and overall safety. Winner must sign a Personal Injury and Limited Liability release, and must guarantee necessary vet care will be provided.
How to bid
To access the auction, visit CharityBuzz.com before November 29.
Pencils Of Promise Gala
On Thursday, November 17, PoP will host their first charity gala at espace in New York City. Honorees Justin Bieber, Scott "Scooter" Braun, and AgencyNet will be recognized. The evening will include a cocktail hour with passed hors d'oeuvres, a seated dinner, a silent auction as well as musical entertainment.
Find out more here