Actor Megan Park—known to fans of ABC Family's hot series The Secret Life of the American Teenager as perky cheerleader Grace Bowman—returned to her home province of Ontario this week to urge her fellow Canadians as well as fans everywhere to keep fur out of their wardrobes.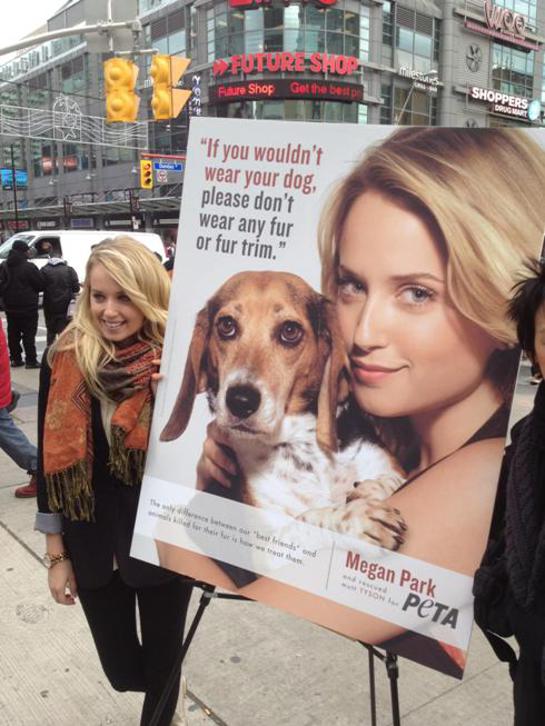 Park keeps no secrets when it comes to animal protection. A proud guardian of several rescued animals and an outspoken activist against the annual Canadian seal slaughter, Park stars in PETA's latest anti-fur ad campaign alongside her rescued canine friend Tyson. The ad, which was shot by top celebrity photographer Don Flood, reads, "If You Wouldn't Wear Your Dog, Please Don't Wear Any Fur or Fur Trim."
"The way that they get fur is awful and it's horrible and I think that people just don't want to think about it," Park said in an exclusive PETA interview. "[T]hey become selfish and they become superficial and they just want to look a certain way. … These animals are skinned alive and kept in small little cages. … [T]here's no reason for it."
In addition to her Secret Life role, Park will appear later this year on the big screen with Miley Cyrus in The Weinstein Company's So Undercover and in Aaron Sorkin's highly anticipated HBO drama series, The Newsroom. She joins a long list of celebrities—including Aimee Teegarden, Lea Michele, Justin Bieber, Kellan Lutz, Daniella Monet, Pink, and many others—who have partnered with PETA to help protect animals.
Source: PETA