PSI, a leading international health organization with programs in 67 countries, launches the latest issue of its development magazine Impact, which focuses on the power of youth.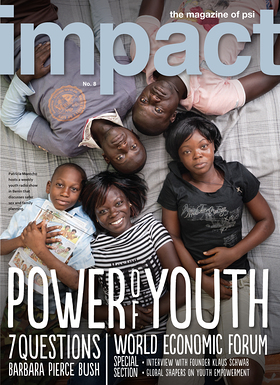 Today, 50 percent of the world's population is under 27 years old. The prosperity of our future world rests on the health and well-being of today's Millennial generation.
Yet, the global health community has traditionally failed to put youth at the top of the development agenda. Governments, donors and advocacy organizations are just beginning to tackle the distinct challenges of unlocking the massive potential of a healthy youth population.
This issue of Impact explores the challenges facing the world's youth and profiles some of the most successful people, interventions and ideas addressing them.

Exclusive interviews in Impact include:
Barbara Pierce Bush, Co-Founder &

CEO

of Global Health Corps and

PSI

Board Member
Mandy Moore, Singer–Songwriter, Actress and

PSI

Global Ambassador
Ronan Farrow, Special Adviser to U.S. Secretary of State Hillary Clinton on Global Youth Issues
Prof. Klaus Schwab, Founder and Executive Chairman of the World Economic Forum
Also in this issue, five youth from Africa, Central Asia and Latin America – Genevieve Doukoya, Edgar Anibal Miranda, Whitney Davis, Patricia Montcho and Dinara Utebayeva – talk about leading their peers towards better health through radio shows and peer education programs.
As Mandy Moore said, "We are in the position to affect change when it comes to policies and government. Now is the time to own it, to own that power, and really use that momentum to push forward and create some change."
Let's give the Millennials our undivided attention now. A healthier youth today means a better future tomorrow.
Go to www.psi.org/impact8 to check out the full issue.