The World Food Programme has been hosting rap music star 50 Cent during his trip this week to Somalia and Kenya this week, where he was able to see at first hand the fight against hunger in the Horn of Africa.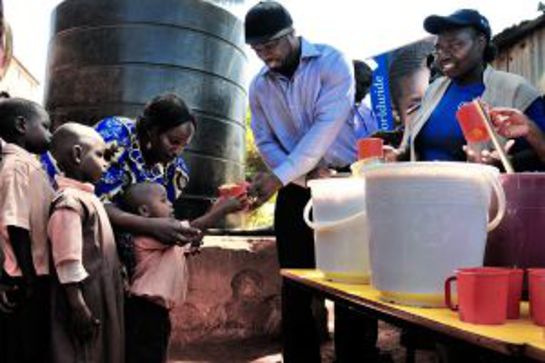 The rapper flew to Dolow in Somalia's southern border region on Wednesday. Dolow is where thousands of women and children fleeing from drought and conflict have taken refuge. While at the Kabasa camp for displaced people, he saw women and children being screened for malnutrition, and visited a nearby school.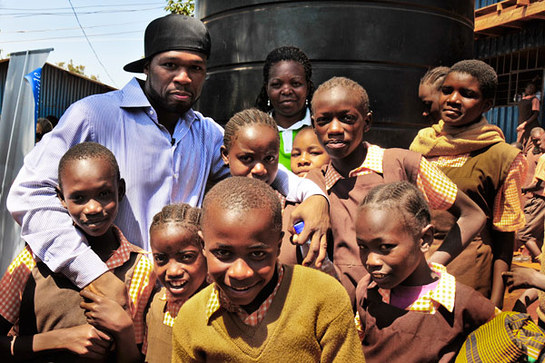 "What I am seeing is devastating — these women and children have risked everything to come to this Somalia camp, just to get food," he said. "They need our help."
On Thursday, Jackson visited a school in a Nairobi slum where he met children, many of them orphans.
"To meet those kids was so inspiring, they have nothing, yet they are so positive and optimistic. I want to do my part so they get food and an education. I hope more people will join me to help end this devastating situation," he said.
In September, Jackson made a public commitment to provide one billion meals for the hungry. As part of his fundraising drive, he is donating to WFP money from the sales of a new energy drink, called Street King. For every unit sold, he has pledged to donate 10 U.S. cents, which covers the typical cost of food in a WFP meal.
WFP provides nourishing meals and snacks to improve concentration in the classroom and to encourage families to enrol and keep their children in school.
Photos: WFP/Rose Ogola
Source: World Food Programme