By Elizabeth Willoughby on
Actor and human rights activist George Clooney was arrested with his father and other protestors last week at the Sudanese embassy in Washington, DC. Not expecting to be arrested, they were demonstrating as part of a public awareness exercise about "Sudan's weapons of mass starvation".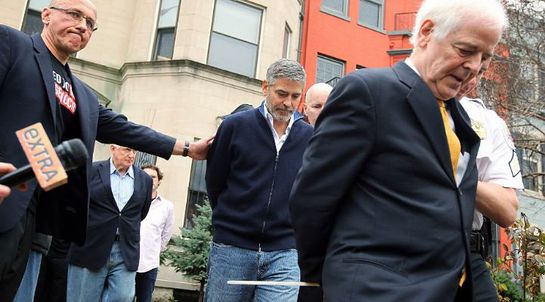 "We're trying to bring attention to an ongoing emergency, one that's got about a six-week time table before the rainy season starts and a lot of people are going to die from it," Clooney said after his release.
He was talking about the people of Sudan's Nuba Mountains, just north of the border of newly separated South Sudan. Previously, Clooney had snuck into the restricted mountains with a camera crew to film what was happening, and says he witnessed hundreds of people running into the mountains for protection from a bomb attack, which he says is a daily occurrence there.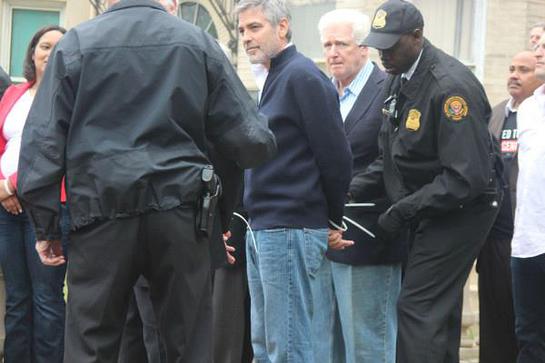 In the short film he made with ENOUGH Project to document the Sudan government crimes in Nuba, Clooney talks with a young boy who had a bullet removed from his leg the day before, and there is footage of another boy who had lost his hands an hour earlier when he was hiding in a rock shelter. A woman with bullet scars across her collar bone and her arms says, "We left our homes because we were too scared of the attacks by airplanes and rockets. Omar al-Bashir is attacking us."
"This isn't a war of retaliation," says Clooney. "This is simply trying to clear people out ethnically, because of the color of their skin." The Nuba are Blacks, not Arabs.
Back in the US testifying before the Senate Foreign Relations Committee a couple of days before his arrest, Clooney laid out a clear picture of what is happening in Sudan at the hands of the same three men, including Bashir, who orchestrated the atrocities in Darfur.
"These people are not the 'Cave People of Nuba'. They actually live on farms and they're the oldest society in the world, and yet now they are forced to hide in caves. It is a campaign of murder and fear and displacement and starvation. These people, every single day of their lives, have to deal with fear. Not just of the future in terms of starving to death, but actually actively being killed. The exact same people who did this in Darfur are the people that are doing this again."
Clooney then outlined a course of action. When South Sudan shut down its oil production, which is refined in Sudan, China lost six percent of its oil imports and oil prices went up. With 20 billion dollars invested in oil infrastructure in the Sudan, China is now getting nothing in return.
"We need to do what we're best at," said Clooney. "Real diplomacy, starting with China. We need to use this opportunity to work in tandem with the Chinese to solve these cross border issues. Not by using guilt. Not by appealing to humanitarian interests, but simply for good, solid, economic reasons for both of us. Let's send a high-level envoy to China to work together on this. Let's use the techniques we've learned from chasing terrorists and find and freeze the offshore bank accounts of these war criminals. Let's work with the international community to toughen the sanctions – make Khartoum a very lonely place. There is a long list of things we can do that won't cost lives or much money. We can't give the lives back. But we can put an end to it if we work together as an international community."