When the National Basketball Association's (NBA) biggest stars hit the court this week it won't just be the title they are playing for, but something much greater – finding a cure for childhood cancer and other deadly diseases.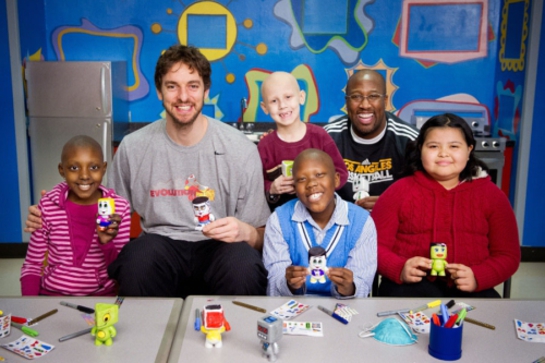 Around the league March 26-30, teams, players and fans will participate in Hoops for St. Jude Week, a national awareness campaign in partnership with NBA Cares that raises funds to help St. Jude Children's Research Hospital provide the best care to the world's sickest children at no cost to their family.
The Hoops for St. Jude ambassador roster this year includes NBA stars Dwight Howard (Orlando Magic), Dwyane Wade (Miami Heat), Kevin Love (Minnesota Timberwolves), Pau Gasol (Los Angeles Lakers), David Lee (Golden State Warriors), Rudy Gay (Memphis Grizzlies) and veteran coach George Karl (Denver Nuggets). During Hoops Week the ambassadors will mobilize teammates and fans to help raise awareness and funds to support St. Jude's lifesaving mission.
"By supporting Hoops for St. Jude fans can help the doctors and scientists continue their lifesaving research and treatment," said Pau Gasol, who has a background in the medical field. "A donation to St. Jude means not only saving one child's life, but thousands of children's lives around the world."
St. Jude's groundbreaking research helps kids like 14-year-old Isaac, an avid Oklahoma City Thunder fan. Isaac recently returned to the basketball court after battling a deadly brain tumor and enduring seven brain surgeries.
"Isaac's story is one of many that demonstrate the critical need for our research and treatment," said Richard Shadyac Jr., CEO of ALSAC/St. Jude Children's Research Hospital. "Sports are such a powerful unifier, and we are so fortunate to have our friends in the NBA and basketball fans everywhere participate in Hoops for St. Jude Week and help us continue our lifesaving research all while ensuring that no family ever pays St. Jude for anything."
Prior to the tipoff of Hoops for St. Jude Week several ambassadors have already been helping raise awareness for the program and fans will have the opportunity to get involved in a variety of ways including donating at the Hoops website or bidding in an online auction. These programs are so critical because it costs $1.7 million a day to operate St. Jude and more than 75 percent of those funds come from the public through programs like Hoops for St. Jude.
Isaac's family is trying to raise $5,000 during Hoops for St. Jude Week in his honor to show their gratitude for St. Jude and basketball fans across the country can get involved as well. Fans can join NBA Cares and the Hoops for St. Jude team and give kids like Isaac a chance to experience a lifetime of sports moments. Visit www.stjude.org/hoops to learn more, make a donation or bid in the online auction.