NFL wide receiver Hank Baskett, former Minnesota Vikings player, is calling on his A-Team list of players and celebrities to drive Lung Cancer off the earth and score major funding for the Bonnie J. Addario Lung Cancer Foundation with an inaugural charity golf tournament May 21 at Donald Trump's golf club in Rancho Palos Verdes in California.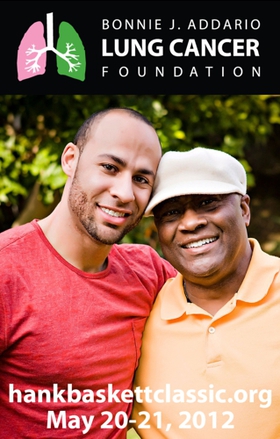 Baskett has recruited a major league team of power hitters to attend including Kendra Wilkinson, Stephen C. Bishop, Christopher Duncan, Alfonso Ribeiro, Jermaine Dye, Michael Strahan, Corey Dillon, Jessica Hall, Sara Underwood, Jayde Nicole, Tosh Berman, David Justice, Marcellus Wiley, Danielle Fishel, Matt Nordgren, Kris Humphries, Kevin Love, Danny Granger, Adrienne Maloof and Eric Allen.
The celebrated football player is determined to smash this deadly opponent – Lung Cancer. The statistics are grim: 1.6 million people worldwide will be diagnosed with Lung Cancer this year. Only 15.5% will survive.
Hank's teaming up with the foundation because he's determined to help us make a powerful impact and a winning difference. The Bonnie J. Addario Lung Cancer Foundation has raised $9 million to support research and related patient services, and has become a recognized global leader in Lung Cancer research. It provides patient empowerment, support, referrals, and valuable information on up-to-the-minute treatment options, genetic testing and personalized medicine, offering hope that Lung Cancer can become a chronically managed disease in our lifetime.
"We're proud to be partnering with Hank Baskett," says Bonnie J. Addario, founder and a Lung Cancer survivor. "We're so honored to have Hank on our team helping to raise essential funding and awareness for Lung Cancer and the message that ANYONE CAN GET LUNG CANCER." Baskett also will serve as honorary chair of the Seventh Annual Golf Tournament on June 11, 2012 at Green Hills Country Club in Millbrae, CA.
Addario urges everyone: "To join the efforts in changing the inexcusable 15.5 percent survival rate for Lung Cancer patients and to help and support the foundation in saving lives and supporting our efforts." Ninety percent of all funds raised support research and mission related programming.
The invitation-only VIP Welcome Reception will be held at 7 p.m. in the Catalina Ballroom of the Terranea Resort and Spa in Rancho Palos Verdes, overlooking the Pacific Ocean. Registration begins at 10 a.m. on May 21, the next day, for The Hank Baskett Classic Golf Tournament followed by lunch and a shotgun start at 11:30 a.m. at Trump National Golf Club. Sponsorship packages are available through The Griffin Gives Foundation for tee box sponsors (prices vary according to the level of sponsorship). To find out more, click here.