Steve Earle will headline Sing Out For Seva, a benefit for Native American health programs at the Wells Fargo Center for the Arts in Santa Rosa, California on May 19.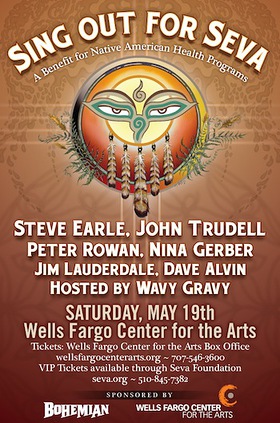 Presented by the Seva Foundation, the show will be hosted by Wavy Gravy and also feature John Trudell, Peter Rowan, Nina Gerber, Jim Lauderdale and Dave Alvin.
The foundation was founded in 1978 by a group of medical professionals, counterculture activists, musicians, and compassionate individuals, all dedicated to the alleviation of suffering in the world. Most notably among them are public health expert Dr. Larry Brilliant, spiritual leader Ram Dass, and humanitarian activist Wavy Gravy.
Seva's Native American Programs began in 1982, supporting the establishment of the Porcupine Clinic on the Pine Ridge Reservation — the first Native American operated health clinic in the country. Seva then launched its Diabetes Talking Circles, a highly effective training that helps Native people develop self-managed strategies for diabetes prevention and treatment. Today, Seva's Native American Community Health Program builds sustainable health programs focused on food justice and the prevention of diabetes. Find out more here.
Tickets are available here.