Michelle Yeoh, internationally acclaimed actress and most recent recipient of France's highest decoration "the Legion of Honour", joins Bollywood superstar Aamir Khan in becoming the second Global Ambassador of Live to Love.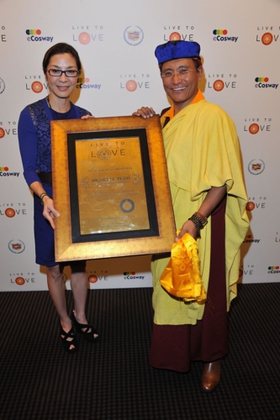 Live to Love is an international humanitarian initiative established by His Holiness the Gyalwang Drukpa, founder of the Druk White Lotus School, better known today as "Rancho's School", the school made popular by the runaway hit "3 Idiots".
Michelle has volunteered her services to promote the secular humanitarian initiative. Aamir Khan had earlier pledged his support for Live to Love's core causes focused towards protection of the environment and the spread of education in the Himalayan belt.
"We are delighted that Michelle Yeoh has agreed to support the cause of the Live to Love Foundation. I believe that celebrity patrons like Michelle and Aamir Khan can play a significant role in not only raising global awareness about our mission and goals, but through their personal efforts encourage many others to come forward and provide our humanitarian activities much needed support", commented His Holiness the Gyalwang Drukpa.
The announcement was made on the sidelines of the BAFTA event in London which had a unique entry from India this year – a documentary focused on the work of His Holiness the Gyalwang Drukpa entitled "Pad Yatra: A Green Odyssey". This unique documentary with Michelle Yeoh as its Executive Producer charts a 250 mile trek undertaken by 700 humans, led by His Holiness the Gyalwang Drukpa across one of the most challenging global terrains, the Himalayas. The documentary highlights to an international audience the damage being caused to one of the most important water sources on the planet.
Find out more about Live to Love here.