Children Mending Hearts (CMH) held its 4th Annual Spring Benefit honoring young heroes in the community and raise awareness for CMH's new global after-school program for at-risk children on Sunday.
This year's honorees included Bethany Hamilton (Soul Surfer) and Carson Meyer (Teen Board Advisor), who are making waves by making a difference. Past Honorees include Maria Bello, Anderson Cooper, Eve Ensler, Bill Gates, Sr. and Luc Robitaille.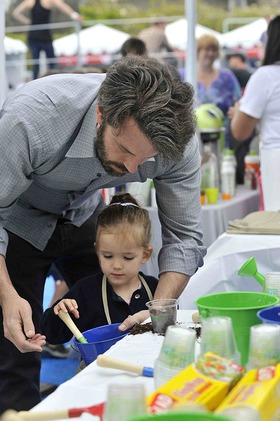 In the theme of surf and sun, the event celebrated family, fun, art and citizenship. Designed for the entire family, the event included with art activities, musical guests, fun interactive surfing and skating demos and games for everyone with music by DJ Connor Cruise and a musical performance by Trevor Jackson. All proceeds to benefit Children Mending Hearts, which provides global arts and education to Los Angeles' underserved youth.
Children Mending Hearts (CMH), founded by Lysa Heslov in 2008, is dedicated to empowering disadvantaged youth through educational and arts programs that build empathy and global citizenry. Through after school classes and arts exchange workshops, CMH actively engages US youth in global children's causes where they can positively impact the life of another child. To date, CMH has served nearly 10,000 children due in large part to the generous support of the entertainment community, a circle in which Lysa and her husband Grant, CMH board member, are well known. Grant is a three time Academy Award nominated producer and writer (Good Night and Good Luck, The Ides of March) as well as George Clooney's producing partner in Smokehouse Pictures.
The Children Mending Hearts 4th Annual Spring Benefit was presented by Microsoft, Leisure Society, Crave Milk, Lexus and SodaStream. Additional sponsors include Layer Cake Wines, ZICO, smartwater and Fatburger.