On Halloween of 2003, Bethany Hamilton survived a nightmare that Hollywood horror movies are made of.
The then 13-year-old competitive surfer went out early that morning to catch a few waves along with her best friend, Alana and Alana's father and brother, off the coast of Kauai's North Shore in Hawaii.
While lying flat on her surfboard, her arm dangling in the water, Bethany was attacked by a 14-foot tiger shark. The bite severed her left arm and was inches away from being fatal. Bethany's friends used a surfboard's leash as a tourniquet – a move that saved her life – and paddled her back to shore.
"I lost 70 percent of my blood that morning, and it was kind of rare for me to even make it. I was just praying the whole way in."
Less than one month later, Bethany was back out surfing.
That same year she placed fifth in the National Surfing Championships and secured a spot for herself on the U.S. National Surfing Team. She also won an ESPY award from ESPN for Best Comeback athlete, and a special courage award at the 2004 Teen Choice Awards. Bethany came in 1st place in the Explorer's Women division of the 2005 NSSA National Championships – winning her first national title.
Now, Bethany is surfing on the Association of Surfing Professionals' World Qualifying Series. She came in 3rd at the 2008 Roxy Pro Women's Surf Festival and was recently the runner up at the 2009 World Junior Pro Championship!
When Bethany is out of the water, she is still making waves. She has written an autobiography and a series of faith-based books, filmed a 30-min documentary, created a line of jewelry, fragrances and cosmetics, and is soon to have a full-length film made about her story. Portions of the proceeds from the Stoked and Wired products – available at www.amazon.com – are donated to World Vision, a Christian relief organization aiding children living in poverty, for which Bethany is a spokesperson.
"People can do whatever they want if they just set their heart to it, and just never give up, and just go out there and do it."
Bethany is also a spokesperson for Beating The Odds Foundation) and Foundation for a Better Life.
Bethany has been involved with the Women's Sports Foundation, Fair Fund's Jewel Girls program, Walking on Water, Life Without Limbs, Holidays With Purpose and Christian Surfers.
Bethany was asked by SurfAid International to come and speak to women representing their villages at a dance festival while she was on a surf trip. Bethany spoke on the importance of health care and hygiene. Something that is taken for granted and lacking in these remote villages.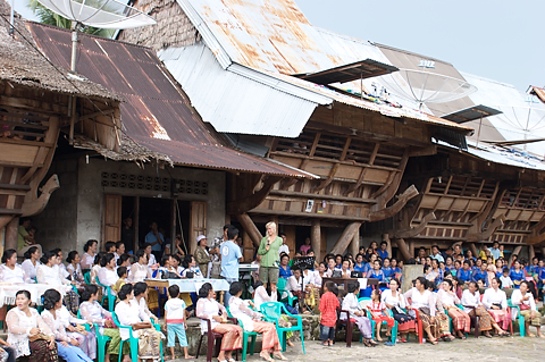 She and her family, in addition, support Compassion International and Spectrum Ministries, among others.
Her family and friends are starting a charitable foundation called the Friends of Bethany Hamilton Foundation to support shark attack survivors, traumatic amputees, and inspire people through Bethany's life story.
Charities & foundations supported 4
Bethany Hamilton has supported the following charities listed on this site:
Other supporters of the same charities & foundations
Causes supported 10
Adoption, Fostering, Orphans, AIDS & HIV, Children, Health, Miscellaneous, Philanthropy, Physical Challenges, Poverty, Sports, Women