The DKMS 6th Annual Gala: Linked Against Blood Cancer, hosted by Katharina Harf, Chief Inspiration Officer of DKMS Americas, was held on Thursday night at Cipriani Wall Street to a sold out audience.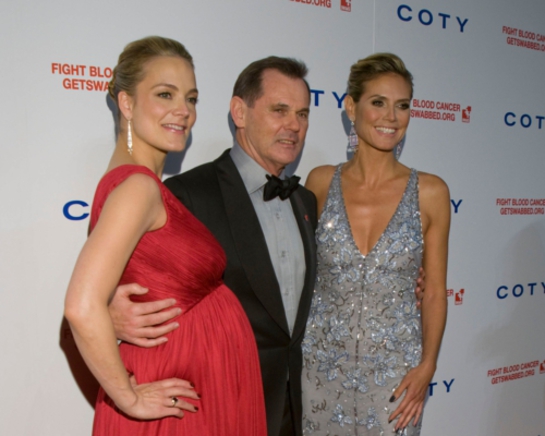 The gala once again broke records of previous years, raising $3.2 million to support the fight against blood cancer. Coty Inc., a leading global beauty company, and DKMS, the world's largest bone marrow donor center, jointly raised the funds to support registering new bone marrow donors and help patients worldwide.
"The Coty family is passionate in its commitment to supporting DKMS and to saving lives," said Bernd Beetz, CEO of Coty Inc. and honorary chairman of the event. "We are so proud that this year, thanks in part to the support of Coty employees, partners, and supporters, we were able to reach new heights of fundraising success."
For over two decades, DKMS has registered more than 3 million donors and helped save more than 30,000 lives around the world. Still, only six out of ten people are able to find a matching donor.
During the gala, Beetz presented the "DKMS Linked Against Blood Cancer Award" to internationally renowned supermodel and Coty business partner Heidi Klum, for her tireless charitable work, which includes efforts to fight cancer.
DKMS founder Peter Harf had the honor of presenting Alejandro Santo Domingo, a long-standing board member and loyal supporter of DKMS, Senior Managing Director, Quadrant Capital Advisors with the "Fight Against Blood Cancer Award" for supporting organizations and charities dedicated to the cause.
"We are eternally grateful for the support of our corporate founding sponsor, Coty, and other long-term supporters for joining our fight against blood cancer," said Katharina Harf. "With the $3.2 million we raised, we will be able to register almost 50,000 new bone marrow donors who will help save lives. We all witnessed a miracle of a donor and patient meeting at the gala and with your support we can make more miracles happen."
The biggest highlight of the evening was "The Moment of the Match" when Katharina Harf introduced Mindi Finch and her young son, Gregory, met Katie D'Entremont, who saved Gregory's life. The three met for the first time on stage. Six-year-old Gregory and his charming smile touched every heart in the room.
Designer and television personality Nate Berkus emceed the black-tie event, which included special performances by five-time Grammy-nominated singer Skylar Grey and singer-songwriter LP, who has penned songs for Rihanna and Christina Aguilera and was recently named one of Esquire's 2012 rising stars. Among the guests at the star-studded gala were Solange Knowles, Nelly, Ashanti, Dakota Fanning, Vera Wang, Kyle Maclachlan, Anja Rubik, Derek Lam and Coco Rocha.
Earlier that day in honor of the Coty-DKMS Linked Against Blood Cancer partnership and the DKMS 6th Annual Gala, Heidi Klum illuminated the iconic New York City landmark Empire State Building in red and white lights.
"I'm grateful to Coty and DKMS for all they do in the fight against blood cancer, and I'm honored to join them in this fight," said Klum. "I have been working with Coty as the face of ASTOR and with my fragrance, Shine, so to be able to deepen my relationship with Bernd and all the Coty family on such a worthy cause as this one is wonderful. To play a part in the great work of DKMS and the Linked Against Blood Cancer partnership has been an amazing experience."
Coty joined DKMS in October 2006 in the fight against blood cancer. Blood cancer also touched Coty Inc. in a very personal manner in 1991, when the wife of former longtime Coty Inc. Chairman Peter Harf succumbed to leukemia.
All proceeds from the DKMS 6th Annual Gala will go directly to enrolling lifesaving bone marrow donors, and furthering advancements in cancer treatment and care. Each year, more than 140,000 people are diagnosed with blood cancer, including leukemia, which is the most common cancer among children and adolescents.
For more information on the Coty-DKMS Linked Against Blood Cancer partnership, visit www.getswabbed.org.