Hot on the heels of the release of his new EP, Preview to Paradise, 15-year-old Australian pop star Cody Simpson is calling on his fans to give their dogs and cats all the love and attention that they deserve.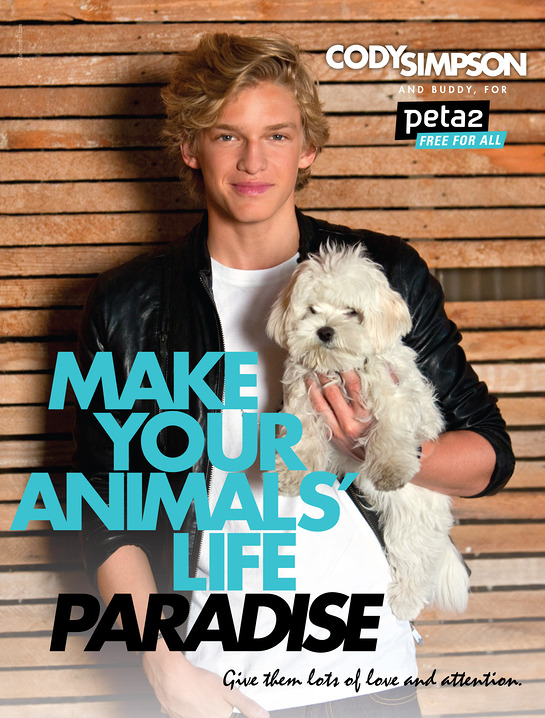 That's the message of his new ad for peta2, PETA's youth division, in which the "iYiYi" singer relaxes with his dog, Buddy, above the words "Make Your Animals' Life Paradise."
Simpson also sat down for an exclusive peta2 interview in which he stressed the importance of speaking up for animals. "Never leave your dog in a hot car," he says. "It's important to speak up if you ever come across a situation like that …. You can tell your parent, or tell an adult you trust, really. I wouldn't leave the situation until it's been resolved and everything's OK." He concludes, "If you ever see animal abuse, please never be silent."
The full-length version of Simpson's debut studio album, Paradise, will drop in October. His previous EPs and singles include collaborations with Flo Rida and T-Pain, among others, and he has been honored at the Nickelodeon Kids' Choice Awards in Australia and the U.S. as well as at J-14's Teen Icon Awards. Simpson can be seen in a city near you as he embarks on a national tour with Big Time Rush this summer.
Simpson joins a growing list of celebrities—including Lea Michele, Kellan Lutz, Pink, Justin Bieber, Booboo Stewart, Sean Kingston, Jay Sean, and Travie McCoy—who have teamed up with peta2 to help animals.
For more information, please visit peta2.com.
Source: PETA