Wednesday, in full Euro Cup fever on a perfect New York summer day, thousands of fans gathered for Steve Nash's fifth Showdown soccer match at Sara D. Roosevelt Park.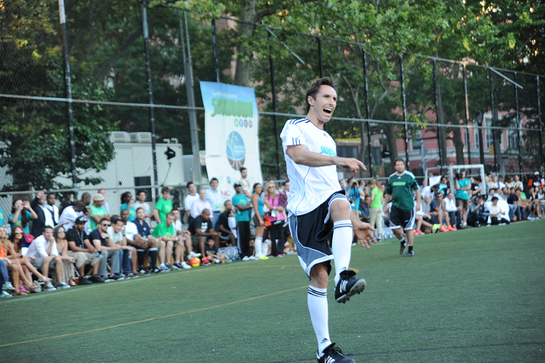 This year's roster included Salomon Kalou, Maurice Edu, Stuart Holden and Robbie Rogers, who joined forces to support the Steve Nash Foundation's work to benefit underserved children. 100% of proceeds from the auction and ticket sales will benefit the Foundation's work to increase access to high-quality early learning services to children through Educare.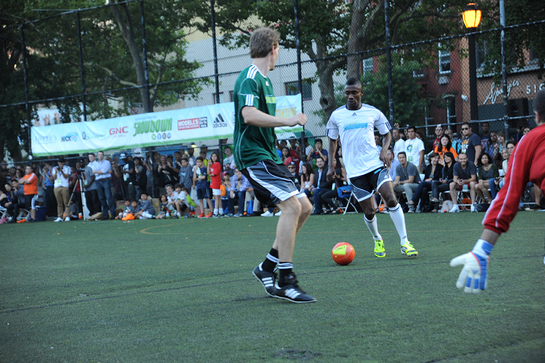 Steve's team won 7-6, and the game was highlighted by Kalou's fancy footwork, a number of Steve's great assists and the performance of ESPN sport commentator, Marc Stein.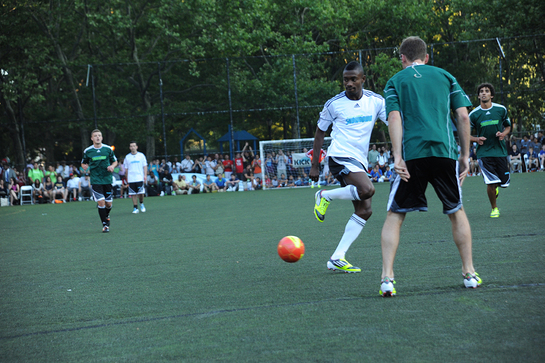 Steve and his fellow players were joined by a crowd of fans and supporters for the Showdown After Hours party at the popular Penny Farthing pub in the East Village, where they enjoyed foosball and bidding on auction items to benefit the foundation.
"I really enjoyed the energy of the day" said Steve Nash "Showdown is an amazing opportunity to spend time with athletes of a different sport that we respect so much and also to connect with fans at a personal level. We always end up having an great time."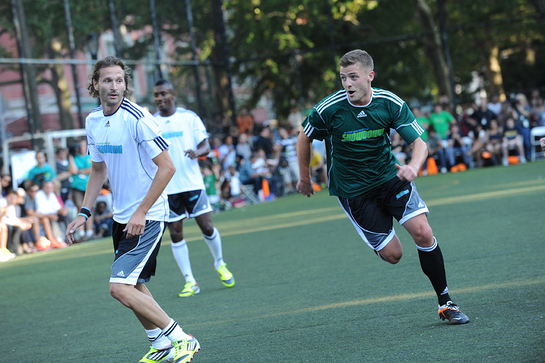 Showdown sponsors this year included: GNC, adidas, Modell's Sporting Goods, Phebe's Tavern, Naked Pizza, Find Me Gluten Free, Gucci Watches, Landmark's Sunshine Cinema, Major League Soccer, KICKTV, Waatah and Crunch Gyms.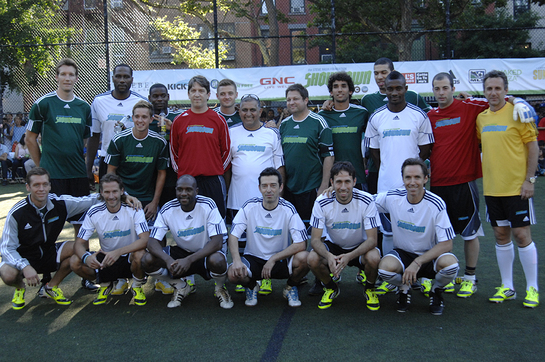 Full Showdown 2012 roster:
Mike Dunleavy (Pacers)
Elton Brand (Philadelphia 76ers)
Mo Edu (Rangers, Scottish Premiership, US National Team)
Robbie Rogers (Leeds United, US National Team)
Marc Stein (ESPN commentator Danny Green (Spurs)
Salomon Kalou (Chelsea, Premiership, Eng)
Jimmy Conrad (former US National Team)
Carlos Ludi (capitan of Novara, Italy)
Emerson Boyce (capitan of Wigan, England)
Simone Sandri (NBA writer Alessandro Noselli (Sassuolo, Italy)
Steve Nash (Suns)
Rod Fanni (Marseille)
Giuseppe Rossi (Villareal, Liga, Spain)
Team Captain, Thierry Henry (NY RedBulls)
Grant Hill (Suns)
Stu Holden (Bolton, Premiership, Eng., US National Team)