Stephen Fry, Alan Davies and the stars of British quiz show QI met with a teen living with cancer as part of a Make-A-Wish Foundation wish recently.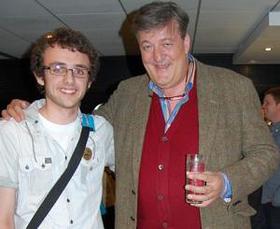 From Make-A-Wish UK: "Last year, at just 14 years old, Ted was diagnosed with Testicular Cancer. Make-A-Wish recently granted his ultimate wish – to meet the great Stephen Fry!
"Now 15, Ted, who is from County Armagh, has always loved Stephen Fry. During chemotherapy treatment, when he was feeling very low, it was Stephen's autobiography, QI and Blackadder that helped get him through – they never failed to make him laugh and provided him with a focus away from his illness and treatment.
"On the day of his wish, Ted arrived at the QI studio with his family – Mum Dawn, Dad Ian, and younger brother Patrick – to watch the recording of QI, before being escorted to the green room where he was able to meet his idol. Dawn said he was "in awe" when he met Stephen. Ted also met QI panelist Alan Davies and founder John Lloyd."
"It was an absolute pleasure to meet Ted and an experience I'm deeply humbled by," said Stephen Fry. "He's a very bright young man and a true inspiration."
To read the full account of the visit, click here.