For the third consecutive year, State Farm and Major League Baseball (MLB) are rallying fans to swing for the fences to benefit outstanding charitable organizations.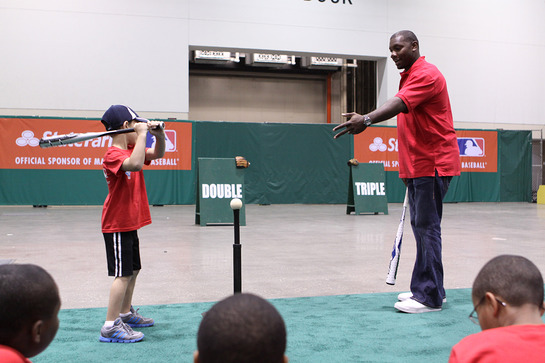 Fans can support causes that make a difference in communities across the nation through the Go to Bat program, an online, charitable giving initiative driven by a commitment State Farm makes to helping communities "get to a better state." Fans can win a VIP trip for two to the 2012 World Series in addition to winning an $18,000 donation to the charity they choose to support.
Starting today, fans are invited to visit www.statefarm.com/gotobat and play the State Farm Go to Bat game. Each participant selects one of four deserving charities: the American Red Cross, Boys' and Girls' Clubs of America, Habitat For Humanity or Teach For America, all of which represent charities State Farm supports to help build safer, stronger and better-educated communities. Once a week for 10 weeks, one participating fan will be randomly selected and the charity they chose to support will receive an $18,000 donation. The lucky contestant also will receive a VIP trip for two to the 2012 World Series. A total of 10 winners will be drawn throughout the program, spanning the second half of the MLB season, concluding on September 17.
"State Farm has always been committed to helping communities "get to a better state." Giving baseball fans the opportunity to go to bat for causes that make a difference in their neighborhoods is a perfect example," said Tim Van Hoof, Assistant Vice President-Marketing at State Farm. "We're excited about giving back with every home run hit and encourage everyone out there to go to bat online and swing for the fences."
Simply playing the game gives fans and their chosen charity a chance to win, but each home run hit is an additional entry to win, so every long ball counts. Fans also can increase their chances of winning by playing the Go to Bat game up to three times per day, as well as earning extra home runs each week by inviting friends to play online and sharing their results through online platforms.
To launch the 2012 Go to Bat program, State Farm and MLB will team up to support Boys & Girls Clubs of America and other deserving charities by donating money for each home run hit in the 2012 State Farm Home Run Derby at Kauffman Stadium in Kansas City. For each home run hit with a "Gold Ball," State Farm and MLB together will combine to donate $18,000. For all other home runs hit during the Derby, State Farm will donate $3,000. Members of Kansas City-area Boys & Girls Clubs will be paired with Home Run Derby participants, and the boy or girl paired with the Derby's winner will receive a $50,000 donation from State Farm for his or her individual club.
The Go to Bat program will culminate at the 2012 MLB World Series with a pre-game ceremony showcasing its collective impact and recognizing the individual winners and their chosen charities.
Fans can get more information and play the Go to Bat game online at www.statefarm.com/gotobat.