Morrissey is wearing a unique chapeau in his new ad campaign for PETA: a rescued tabby, who's perched on Moz's head next to the words "Homeless Animals on Your Mind? Spay or Neuter Today".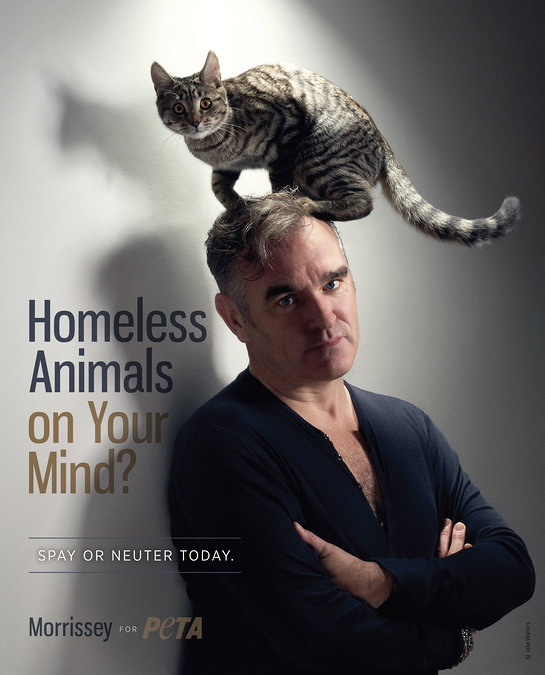 "Despite the fact that they're incredibly intelligent, animals unfortunately haven't yet worked out how to slip on a rubber, which is why thousands of them are being put to sleep in overcrowded shelters and thousands more are desperately waiting to be adopted", says Morrissey. "Letting cats or dogs have litters is tantamount to shooting shelter animals in the head since it kills their chances of adoption. Please do the right thing and spay or neuter your animals."
Thousands of unwanted cats and dogs enter animal shelters every year in the UK, and many of them are euthanised because there simply aren't enough good homes for them. Many more never even make it to an animal shelter. They are abandoned to fend for themselves on the streets and are often subjected to cruelty or succumb to starvation, diseases or injuries. The only answer is prevention through always spaying and neutering. Spaying one female dog can prevent 67,000 births in six years, and spaying one female cat can prevent 370,000 births in seven years.
Morrissey returns to Manchester this week for a one-off gig on 28 July – his only performance in England in 2012. It will be his first show in his hometown since playing the O2 Apollo Manchester in May 2009.
The former lead singer of The Smiths, who was named PETA's Person of the Year 2011, is part of a long list of celebrities – including Simon Cowell, Paul McCartney, Pink and Joss Stone – who have teamed up with PETA to promote life-saving messages for animals.
For more information, please visit PETA.org.uk.