Race car driver Jenson Button and the Make-A-Wish Foundation UK granted a wish to a very special boy recently.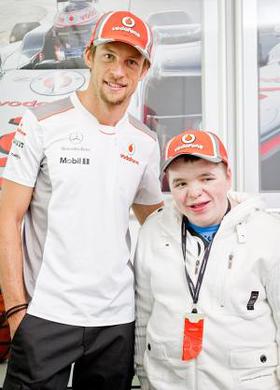 Matthew from Northern Ireland loves Formula 1, so it wasn't a surprise when he wished to meet Make-A-Wish Patron and ex-World Champion Jenson Button.
Matthew, who is from Bangor, County Down, lives with genetic disorder Coffin-Lowry. He started having seizures when he was three months old, but he wasn't diagnosed until he was eight.
Dad Mark said: "It was such a relief to have a diagnosis and an answer to all of the things that Matthew had been displaying. He is unable to do the normal things that an 18 year old would do so now we just take each day as it comes." Matthew has speech therapy, occupational therapy and physiotherapy to help with his condition.
On the day of his wish, Matthew and Mark, were taken to the McLaren Technology Centre in Woking and given a tour, before meeting Matthew's idol, Jenson, who chatted, posed for photos and signed some stuff. Matthew then visited Mercedes Benz World where he was taken out on the track for a spin!
After Matthew's wish Mark said: "I was so impressed that this took place for him, he loved every minute of it and if Matthew's happy, so am I. It was a really memorable experience."
Jenson Button said: "It was a real pleasure to meet Matthew and I hope he thoroughly enjoyed his wish. Being a Patron for Make-A-Wish and being able to actually help grant some of the wishes is extremely fulfilling and humbling."
Source: Make-A-Wish UK