By Tim Saunders on
Sir Elton John has found the cure for AIDS, and he reveals it in his new book. In fact, he reveals it in the book's title.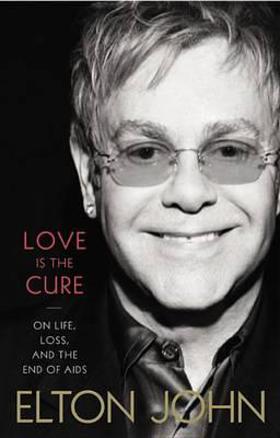 Love Is The Cure starts off as a chronicle of the living legend's fight to beat addictions and bulimia, and morphs into the personal and heartfelt journey of his battle to rid the world of the disease that killed off so many of his friends.
The journey started when Elton met Ryan White, a boy who single-handedly helped raise awareness of the disease and reduce stigmas after contracting AIDS from a blood treatment for his hemophilia. By the time Ryan died in 1990 – ostracized by his school and hometown – his inspirational outlook on life convinced Sir Elton of two things: he had to clean up his own life, and he had to stop the disease in its tracks.
In Love Is The Cure, subtitled On Life, Loss and The End of AIDS, Sir Elton shares his personal story on how he set up the Elton John AIDS Foundation in 1992, and how the $275 million raised by the organization to fight the epidemic has been used. He touches on some of the people he has known who have shared his vision, including Princess Diana and Elizabeth Taylor. And he explains why, in his view, love and compassion will bring an end to the disease that has so many stigmas and untruths attached to it.
"This is a disease that must be cured not by a miraculous vaccine, but by changing hearts and minds, and through collective effort to break down social barriers and to build bridges of compassion," Sir Elton writes. "Why are we not doing more? This is a question I have thought deeply about, and wish to answer – and to help change – by writing this book."
Sir Elton doesn't hold anything back in the book. He tells things the way they are. He describes death, but celebrates life. And whether you are a president, prime minister, senator, drug manufacturer or even the Pope, Elton is not afraid to name the names of those who stand in the way of a cure. And the cure is out there – with just a small increase in funds for the next 8 years, we could effectively wipe this disease off the face of the planet. The cure is within our reach… if only for the decision makers who continue to discriminate against those who are most at risk.
Sir Elton isn't just some celebrity who wants to do good to look good. He gets his fingers dirty, he actively takes a hands-on approach to fundraising because – as he says – it is a miracle he doesn't have the disease himself. And he has lost count of those he knows who lost the fight. In Love Is The Cure, he uses the conviction and emotion he is famous for delivering from behind his piano to reach out and give us all a inspirational look into a disease many choose to ignore.
In the words of Bill Clinton: "Few people know more than Elton about what it will take to end AIDS. His wonderful new book will convince you there's cause for hope – and inspire you to be part of the solution."
Love Is The Cure is required reading in a day and age where worldwide communication can be used as a source of good, and modern science is giving us breakthroughs every day that will wither and die without funding. It is about building a future for those who won't have one without our help.
Proceeds from the book will benefit the Elton John AIDS Foundation. Find out more or buy your copy at Amazon or Amazon UK.