Kristin Bauer van Straten (Pam on True Blood) is auctioning off a sexy piece of authentic True Blood wardrobe in support of her documentary 'Out for Africa'.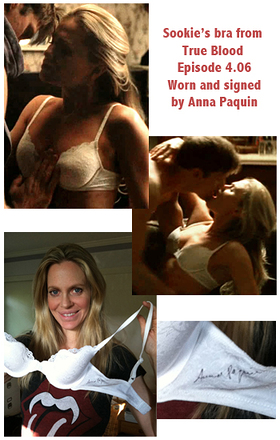 The item up for auction on eBay right now is the bra worn by Anna Paquin in the openings scene of episode 4.06 "I Wish I Was The Moon" of True Blood when Sookie makes out with Eric.
Anna Paquin signed the bra on the side strap. The auction winner will also receive a 8×10 photo of Pam signed personalized with his/her name by Kristin Bauer van Straten.
The auction ends on September 12, 2012
The True Blood Costume Department donated the bra to Kristin Bauer van Straten in support of her ongoing fundraiser to finance the documentary Out for Africa that Kristin and her husband Abri van Straten are shooting right now in Kenya.
Other items for auction are first edition hardcovers 'Definitely Dead' and 'A Touch Of Dead' signed by Charlaine Harris, the writer of the books that True Blood is based on.
The auction can be accessed here.
For more information about Out for Africa, visit www.Outforafrica.com.