Actress and Stand Up To Cancer Ambassador Marg Helgenberger will appear in a new public service campaign on behalf of The Safeway Foundation and Stand Up To Cancer (SU2C).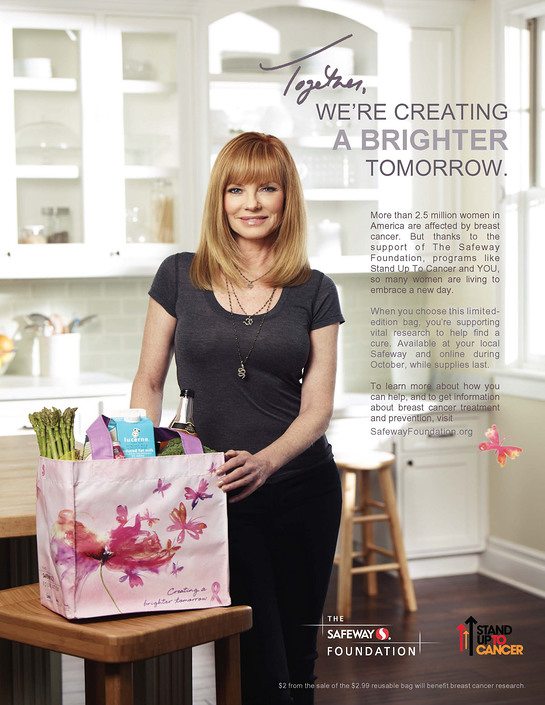 The campaign is designed to raise funds and increase awareness for the fight against breast cancer, which claimed the lives of nearly 40,000 women in the United States in 2011.
Helgenberger, known for her role as Catherine Willows on the CBS drama CSI: Crime Scene Investigation, will appear in both a print and 30-second broadcast public service announcement in direct support of the campaign, which will run as the nation prepares to observe National Breast Cancer Awareness Month in October.
Debuting the end of September, the public service campaign will coincide with Safeway's annual in-store Breast Cancer Awareness fundraiser, which offers customers multiple opportunities to give at more than 1,600 Safeway stores across the United States and Canada. The public service campaign will extend through October.
At the center of the public service campaign is a limited-edition, breast cancer awareness reusable shopping bag. The bag will be available for purchase at all Safeway locations, including Vons, Pavilions, Tom Thumb, Randalls, Dominick's and Carrs stores, as well as online at safewayfoundation.org. Two dollars from the sale of the $2.99 reusable bag will go directly to breast cancer research. Additionally, Safeway shoppers will have a chance to make a separate donation at checkout stands.
"As the daughter of a breast cancer survivor, I am deeply committed to the fight against this disease," said Helgenberger. "I am proud to take a stand on behalf of my mother, and in support of all the women and families who have been affected by breast cancer."
Safeway Foundation Chair and Executive Vice President Larree Renda said The Safeway Foundation is honored to join forces with SU2C and Marg Helgenberger to help take cancer research to the next level. The breast cancer initiative follows a successful Spring 2012 collaboration between the two organizations that focused on prostate cancer.
"We can continue to make significant progress and move closer to a cure for this disease," Ms. Renda said. "The research made possible by The Safeway Foundation and Stand Up To Cancer, as well as the passionate message delivered by ambassadors like Marg Helgenberger, can truly help save lives."
The collaborative campaign represents a continued dedication to breast cancer research and awareness for both The Safeway Foundation and Stand Up To Cancer. To date, Safeway and The Safeway Foundation have raised $102 million. Some of those donations, provided by Safeway's generous customers, have helped provide support to Stand Up To Cancer and the transformative cancer research it funds, like the SU2C Breast Cancer Dream Team. The team – led by Dennis Slamon, M.D., Ph.D., and Joe W. Gray, Ph.D. – is hard at work developing more effective, less toxic medications for the three major breast cancer subtypes and addressing cancer cells' ability to become resistant to therapies that are initially effective, which is one of the primary obstacles to successful treatment. Understanding resistance opens the door to developing new therapeutic agents to overcome this critical problem.
"The Safeway Foundation has long been a prominent supporter of breast cancer awareness and research," said Lisa Paulsen, co-founder of Stand Up To Cancer and CEO of the Entertainment Industry Foundation. "Stand Up To Cancer is honored to join forces with The Safeway Foundation to work together to help combat a disease that takes the lives of too many women."
For more information on the campaign, visit www.SafewayFoundation.org.
Source: Stand Up To Cancer