Earlier this week, Hot Chip continued their DJ 'takeover' of Oxfam shops with an intimate gig at the Oxfam shop on Byres Road shop in Glasgow.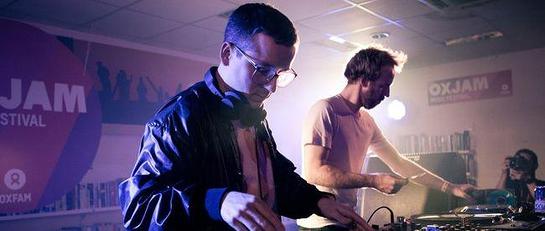 The Oxfam shop gave up its floor space to become an exclusive Oxjam shop for a one-off gig, whilst simultaneously selling great second-hand music and clothing. The shop was converted into a mini-music venue, where Hot Chip and Optimo played an exclusive DJ set for the lucky fans who got to the shop in time and fought there way to the front.
The band's whistle stop tour of Oxfam shops follows the huge success of the Hot Chip Vinyl Emporium party in London, which launched the Oxjam music festival. The Oxjam festival runs throughout October with hundreds of fundraising music events put on by volunteers across the country, with a passion for music and charity.
Gigs range from large-scale festivals to local sponsored busks, combining to produce the biggest line-up of any music festival in the UK.
During October, more than 800 venues, 9,000 volunteers, 7,000 musicians and 150,000 audience members will enable Oxjam to raise at least £350,000 for Oxfam's work.
Oxjam's flagship events are the Oxjam Takeover – multi-venue, wrist-banded festivals that take place across the UK. This year, Takeover events will take place in the following locations in Scotland: Aberdeen, Glasgow, Edinburgh, Falkirk, and Shetland.
To find out what Oxjam events are going on in your area this October, visit www.oxfam.org.uk/oxjam or call 0300 200 1255.
Source: Oxfam.org.uk