The So Lucky To B Me line of women's casual wear, which features inspirational quotes and designs of empowerment, has two new celebrity fans: Hailey and Alaia Baldwin, the beautiful daughters of actor, director, producer and author Stephen Baldwin.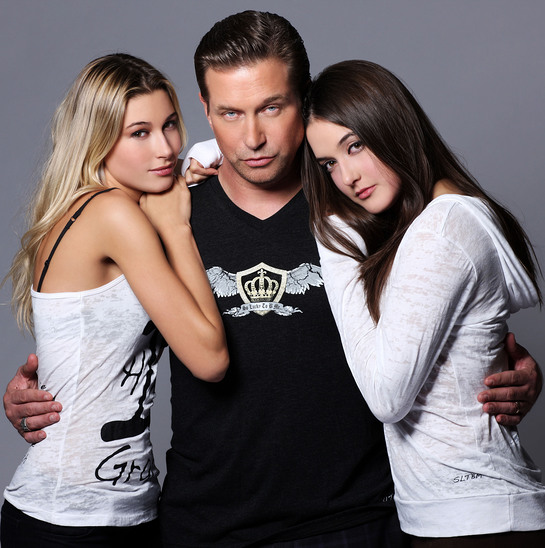 The Baldwin family is excited to join forces with So Lucky To B Me to raise awareness for breast cancer research and support for the Carol M. Baldwin Breast Cancer Research Fund (CMBBCRF), founded by Stephen's mother, which supports new and established researchers investigating the causes, prevention, and treatment of breast cancer. A portion of all proceeds from sales of the casual wear purchased through SoLuckyToBMe.com will be donated to the Fund.
Hailey says that the empowering messages behind the So Lucky To B Me line are a great match for her grandmother's charity: "What this company stands for is really great, and the shirts are an awesome representation of the love that comes from the heart of the Fund," she says.
Alaia agrees with her sister, and says that CMBBCRF and So Lucky To B Me represent the power and passion of women committed to making a difference: "The women who are working hard behind the scenes of So Lucky To B Me and behind CMBBCRF are the greatest examples of strong women. They can all relate to those who are going through the hardest of times. Andie Graff's desire to support my grandmother's organization is truly a blessing."
Andie Graff, founder and designer behind So Lucky To B Me, says the inspirational messages she includes on each piece mirror the mission of the Fund: "I created the line to share messages of empowerment to help build women's self-esteem and encourage them to believe that they are more than enough, simply by being themselves," Graff says. "I am thrilled to partner with an organization that is also working so tirelessly on behalf of women."
Stephen Baldwin, who will be competing on Donald Trump's All-Star Celebrity Apprentice to win money for his mother's charity, says the partnership is a natural fit: "You've heard the saying 'as long as you have your health'…Well, for me, that's something that I do not take for granted. Our partnership with So Lucky To B Me will allow us to use the funding generated to bring us that much closer to finding a cure for breast cancer."
Created in 2008 by Andie Graff, the So Lucky To B Me line of casual wear has a mission of empowerment at heart: To help every woman recognize that real beauty shines from a happy soul; to help every woman know that finding happiness and fulfillment is a journey; and to help every woman know that she is worthy, beautiful, and capable. Every So Lucky To B Me product carries an inspirational quote that helps further that message. By donating a portion of the proceeds to charity, every product furthers the line's mission of "Dress Well. Do Good."
Source: PR Newswire