The Prince's Trust is delighted to be the benefitting charity for the Huawei Winter Concert, with special guests Elaine Paige, Ruthie Henshall and the City of London Sinfonia.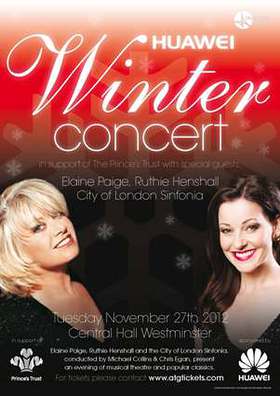 Headlining the evening are multi-award winning musical theatre stars Elaine Paige and Ruthie Henshall. They are joined by the City of London Sinfonia, conducted by Michael Collins and Chris Egan to present an evening of musical theatre and popular classics.
Held in the magnificent Grade II listed Central Hall Westminster, the evening promises to be one of the season's calendar highlights.
"I'm thrilled to be sharing the concert stage not only with the City of London Sinfonia, but also the wonderful Ruthie Henshall – another first for me; but most importantly I'm delighted to be supporting The Prince's Trust," said Elaine Paige.
Huawei Technologies (UK) Co. Ltd will pay all proceeds from this prestigious event to The Prince's Trust.
• Date: Tuesday 27th November 2012
• Start time: 8.00pm
• Location: Central Hall Westminster, London
Ticket prices range from £15 to £35 and are available from ATG Tickets.
To purchase tickets, call 0844 871 7615 or click here.