Kristin Bauer van Straten (Pam on 'True Blood') has painted a portrait of fellow 'True Blood' star Stephen Moyer in support of her anti-poaching documentary 'Out for Africa'.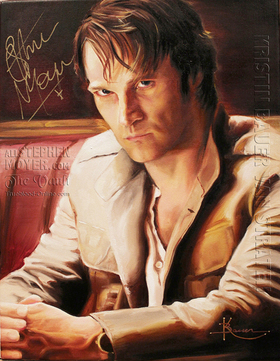 In the painting Stephen Moyer is portrayed as vampire Bill Compton sitting in a booth in Merlotte's as seen in the pilot episode of 'True Blood'. In this iconic scene Bill Compton and Sookie Stackhouse lock eyes for the very first time.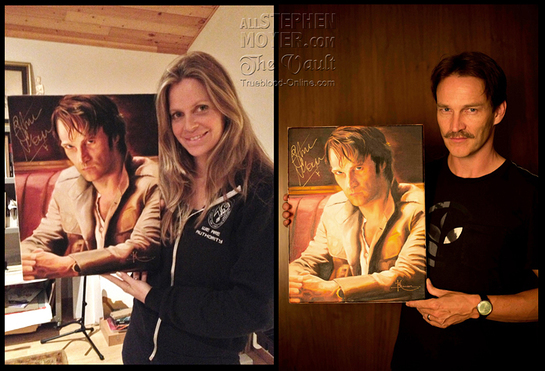 As of writing, the auction has already reached $1,525.
Kristin Bauer worked over 20 hours on the painting in her Los Angeles studio. The painting is oil on canvas and measures 14″ × 18″ (35,5 × 46 cm).
Both Kristin Bauer van Straten and Stephen Moyer signed the painting.
The auction winner will also receive the digital files without watermarks of Kristin Bauer and Stephen Moyer posing with the painting and the digital file of the portrait on the easel in Kristin's studio.
The portrait is auctioned off by the fan sites The Vault – TrueBlood-Online.com and AllStephenMoyer.com in full collaboration with Kristin Bauer.
The Vault and AllStephenMoyer.com are leading information resources in the 'True Blood' fandom and have collaborated in the past with Stephen Moyer, Anna Paquin, Deborah Ann Woll, Sam Trammell, Alexander Skarsgard, Charlaine Harris, Anne Rice and more, raising tens of thousands of dollars for charity.
The auction can be found on eBay here. Auction ends on December 18th.