Usher's New Look, a non-profit organization founded by Usher Raymond IV, last week announced their partnership with Accenture to help New Look reach itsgoal of training and certifying 50,000 youth as global leaders.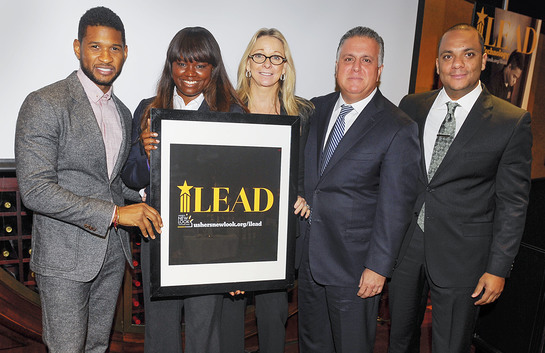 The effort reflects Accenture's Skills to Succeed corporate citizenship initiative.
Over two years, Accenture is supporting New Look with a more than $900,000 contribution, which includes a cash grant as well as pro bono support to develop iLEAD — an online, interactive, curriculum-based platform that will provide data management and tracking for students and parents as they move through New Look's four leadership pillars – talent, education, career and service.
Through the iLEAD platform, New Look will be able to better track the progress of enrolled students. It will also support developing leaders in schools, raising graduation rates and preparing youth for college and career readiness. The platform will align with national public school, career training and development standards.
"Through this partnership with Accenture, New Look will be able to impact thousands of young people by opening doors to new opportunities," said Usher Raymond IV.
In addition to serving New Look participants, iLEAD is being designed on a fully replicable and scalable digital model, accessible via desktop and mobile device. As a result, other non-profits worldwide can customize the iLEAD platform to fit their programs.
"Accenture's game-changing investment will empower New Look youth leaders to become change agents through technology – whether in the classrooms of today or boardrooms of tomorrow!" said Shawn Wilson, President of Usher's New Look.
"Supporting Usher's New Look reflects Accenture's corporate citizenship focus, Skills to Succeed, as well as our belief that technology is a powerful driver of education, training and skills," said Jorge Benitez,Chief Executive, United States and Managing Director, North America. "We share New Look's commitment to making a significant, lasting impact on the long-term economic vitality and resilience of individuals, families and communities around the world."
For more information on Usher's New Look, please visit www.ushersnewlook.org. For more information on Accenture and Skills to Succeed, please visit Skills to Succeed.