Lauren Laverne and Cherry Healey were joined by celebrity friends including Gizzie Erskine, Grace Dent, Sharon Horgan and Grace Woodward for a girls' night out to launch Oxfam's Get Together for International Women's Day, which raises money to support women living in poverty worldwide.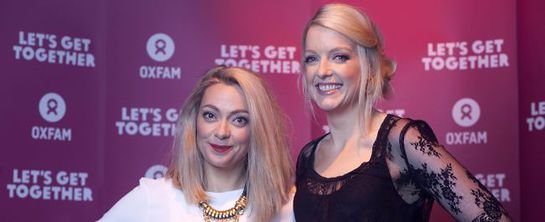 The launch party was all about inspiring ideas for Get Together events and encouraging women to get planning for International Women's Day on 8th March. An Oxfam Get Together can be absolutely anything; from cocktails or a movie night at home, to a killer quiz with colleagues or even just a cuppa with friends.
Get Together supporter Lauren Laverne said: "An Oxfam Get Together is brilliantly simple. Just do something fun with the people you love spending time with – and raise some money at the same time. Last year I had a Mad Hatter's tea party with some of my best mates."
The majority of people living in poverty are women. Get Together raises money for Oxfam's work transforming the lives of women around the world who are experiencing poverty, discrimination, domestic violence and a lack of education. Oxfam helps women reclaim their rights and make their voices heard; from helping girls access schools in Burkina Faso to supporting women farmers in Ethiopia to become entrepreneurs and provide for their families.
Speaking about her recent trip to Ethiopia with Oxfam, Cherry Healey said: "Meeting some of the women who have benefited from Oxfam's work in Ethiopia was incredibly inspiring. It's fantastic to see how empowered they are by being able to run their own honey farms. As a woman, holding a Get Together with friends to mark International Women's Day feels really important. We should support women around the world."
Get Together is one of the UK's largest celebrations of International Women's Day – which is a national holiday in a number of countries around the world, including Afghanistan, Russia and Zambia. Last year, thousands of people took part in Get Together events across the UK. Oxfam hopes even more women and men will hold Get Togethers in 2013.
To find out how to put on an Oxfam Get Together for International Women's Day visit www.oxfam.org.uk/gettogether.
Source: Oxfam.org.uk