Random House Children's Books and Dr. Seuss Enterprises announced today the launch of the Hats Off to Dr. Seuss! campaign at the famed 42nd Street branch of the New York Public Library in New York City.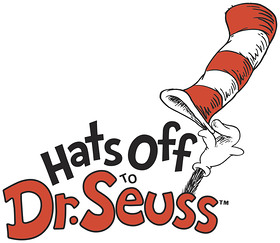 Inspired by the 75th anniversary of The 500 Hats of Bartholomew Cubbins (Anniversary Edition on sale January 22, 2013), the yearlong celebration salutes the breadth of Dr. Seuss's work, not only the remarkable library of children's books he created, but also the span of his incredible career and legacy as a man who wore many hats: as an ad man, a political cartoonist, filmmaker, and a fine artist, to name a few.
The event at the New York Public Library marks the debut of a new exhibit featuring Dr. Seuss's personal hats which have left his legendary, secret "hat closet" for the first time; an attempt to set the Guinness World Records title for "Most People Wearing Dr. Seuss Hats;" and the announcement of a partnership between Random House Children's Books, Dr. Seuss Enterprises, and the Jeff Gordon Children's Foundation — "Hats off to Hope!". Four-time NASCAR Cup Series champion Jeff Gordon will read Mr. Brown Can Moo! Can You?, his favorite Dr. Seuss book, to 300 children wearing Dr. Seuss stovepipe hats. Stuart Claxton of Guinness World Records will adjudicate the record attempt.
"The 75th anniversary of The 500 Hats of Bartholomew Cubbins gives us the very special opportunity to share a story that few people know about Dr. Seuss and his love of hats," says Barbara Marcus, President and Publisher, of Random House Children's Books. "With a sprinkling of zany hats throughout, Dr. Seuss's beloved books have inspired countless generations of young readers and continue to do so today."
Dr. Seuss was an avid hat collector known to wear one of his crazy hats for inspiration while writing, and at dinner parties, it was often a tradition for each guest to wear a hat. In his artwork, as in his personal life, Dr. Seuss saw hats as transformational. From the time he was a small boy in Springfield, Massachusetts, he was aware of the inherent magic in hats. Curated by Chase Art Companies, the "Hats Off to Dr. Seuss" Special Exhibition and Nationwide Tour delivers an in-depth view of his personal hat collection alongside estate authorized reproductions adapted from his original artwork and produced after his death in limited edition from both classic Seuss titles and other rare Seuss works. The exhibit will tell the story of what hats represented for the iconic man of many hats. The Exhibition will be at the New York Public Library until February 11, and then will begin touring the country to 15 different markets throughout 2013. Paintings that accompany the exhibit will be up at the Animazing Gallery in SoHo, NYC February 13 – February 18.
Susan Brandt, President of Dr. Seuss Enterprises, says, "Dr. Seuss was truly a man of many hats. And his hat collection is nothing short of spectacular. We are so excited to bring this collection to the public and proud to partner with the Jeff Gordon Children's Foundation to bring joy to children through our 'Hats Off to Hope!' program."
Founded by Jeff Gordon , the Jeff Gordon Children's Foundation, whose mission is dedicated to finding a cure for pediatric cancer, funds programs that improve patients' quality of life, treatment programs that increase survivorship, and pediatric medical research dedicated to finding a cure. In support of this partnership, Random House Children's Books and Dr. Seuss Enterprises will donate red-and-white-striped hats especially made for children with cancer along with a Dr. Seuss library of books to hospitals in the Children's Oncology Group Network across the country—to be given to children who are inpatient at the time of distribution. Concept One, a hat and accessories licensee, created the hats and will also donate a quantity to the foundation.
"I'm thrilled for what promises to be a dynamic partnership that will bring the magic of Dr. Seuss to children with cancer, and their families," says Jeff Gordon . "Hats are a symbol of dignity and strength for these children, and these Seuss-inspired hats will certainly bring a smile to a lot of faces."
On January 22, 2013, Random House released a special foil-covered, color-enhanced 75th Anniversary Edition of THE 500 HATS OF BARTHOLOMEW CUBBINS (978-0-394-84484-8). This is the first-ever classic Dr. Seuss title to be converted to full color. When first published in 1938, the New York Times lauded 500 Hats as "A lovely bit of tom-foolery which keeps up the suspense and surprise until the last page." When the royal carriage approaches, young Bartholomew Cubbins removes his red hat as is required by the haughty King Derwin . As soon as Bartholomew does so, another hat appears on his head! This goes on and on, angering the king and frustrating his royal assistants until Bartholomew (quite literally) sheds 500 hats. The digital book is also available from Oceanhouse Media on the App Store.
Hats Off to Hope! will continue in the spring and summer when Jeff Gordon will visit children's cancer centers for Seuss celebrations to deliver these hats to children in treatment.
Source: PR Newswire