The Duchess of Cornwall recently hosted a reception in support of survivors of rape and sexual abuse at Clarence House.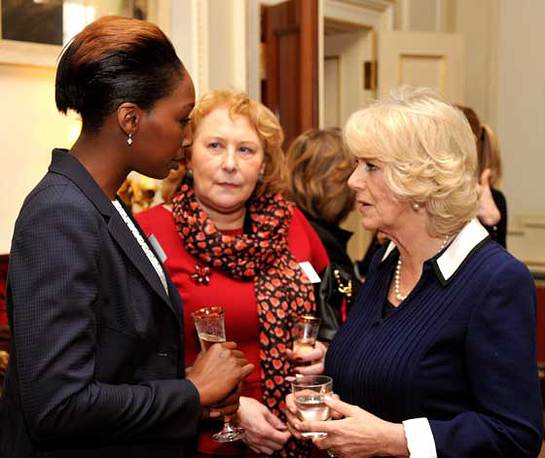 The Duchess organised the reception, whose guests included Home Secretary Theresa May and Director of Public Prosecutions Keir Starmer, to bring together political figures, rape support groups and rape survivors.
The Duchess, who has visited nine rape crisis and sexual assault referral centres in the UK since 2009, spoke to those present of the importance of forming a "united front to help victims of rape and sexual abuse".
She said: "Over the past few years, I have seen for myself some of the remarkable work being undertaken by representatives of rape crisis organisations, the National Health Service and the police across the country.
"During my visits to some of these centres I have been so impressed by the professionalism and commitment of the individuals who provide a lifeline to the women, the children and the men, who have been left shamed and traumatised and made to feel so worthless through no fault of their own."
She spoke of the need to end the taboo surrounding rape and sexual abuse, adding: "Perhaps, from this small beginning, we will be able to build a future where society will simply not tolerate rape and sexual abuse any longer."
Survivor Mia James chatted to The Duchess for several minutes following her speech. Ms James, from south-east London, said: "I just thanked her for her support.
"We need somebody high profile to raise awareness for the common man, because our juries are made up of each and every one of us – and each and every one of us has misconceptions about rape, misconceptions about the causes of rape.
"It's a case of wanting to get the message out as to what it's all about, and I'm really happy we've got The Duchess doing that."
The Duchess said it was "shocking" that relatively few rapes resulted in a conviction.
In her speech, she said: "This challenging and emotive subject has been brought to the fore in recent months with some shocking news stories – although it is by no means a new story.
"The findings of the Government's recent report into sexual offending revealed once again that the number of victims reporting these crimes is still only a tiny proportion of the total and even fewer of those cases end in a conviction."
Ms James agreed that more people need to speak out about rape and sexual assault.
She said: "I want people to stop sweeping us under the carpet. I want this to be something that is not associated with the word 'taboo'.
"With someone as high profile as The Duchess, survivors will feel more comfortable coming out with their stories. They can report it and know there is no stigma attached."
Mr Starmer admitted that "hard work" was needed to increase victims' confidence and lead more of them to report their rape.
He said The Duchess's contribution was "really positive".
"It's fantastic that she's shown such a level of commitment to this important area," he added. "Bringing these people together is a very significant step. We're working together more than we were – but we need to continue to do so."
Ms May said the meeting highlighted the fact there are many victims of rape and sexual violence, with more needing to be done to support them.
She added that the Government had ringfenced funding which would provide funding for rape crisis centres, emphasising their importance.
Mumsnet co-founder Justine Roberts also attended the reception.
Mumsnet has a campaign called We Believe You, which aims to challenge rape myths and raise awareness of the impact of sexual violence on people's lives.
Ms Roberts said of today's meeting: "You can really tell she's spoken to victims. She feels very passionately about the issue."
The meeting was the first time such a wide range of representatives from various UK groups had met to focus solely on issues surrounding rape and sexual abuse, a Clarence House spokeswoman said.
Source: PrinceOfWales.gov.uk