There are nearly 70 million dog owners and 74 million cat owners in the United States, and while many of these pet owners know it is important to keep their pets healthy, they don't necessarily think about the things they should be doing on an ongoing basis to ensure that health.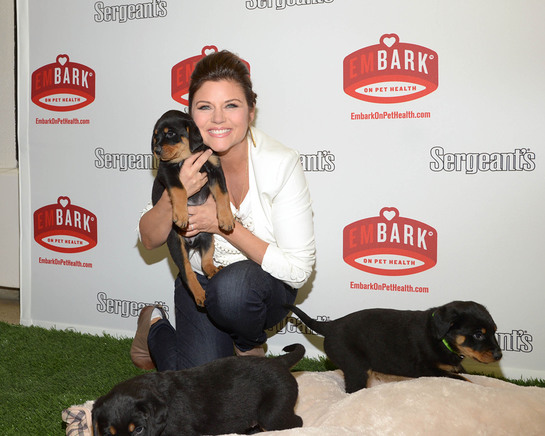 Sergeant's Pet Care Products, a leading pet care product company, and actress and animal advocate, Tiffani Thiessen, are joining together to emBARK on Pet Health by educating and empowering these families during Responsible Pet Owners month.
The emBARK on Pet Health campaign asks pet owners to take a simple pledge to become more mindful of their pet's ongoing needs at www.embarkonpethealth.com. Each pledge will trigger the donation of a Sergeant's Pet Health Kit, which with the help of American Humane Association will be sent to help one of the millions of animals waiting for their forever homes at local shelters nationwide. Sergeant's Pet Care Products is committed to donating up to 5,000 kits, which will ensure that these animals are sent home with all the products they need to get started on a healthy and happy life together after adoption.
"I have always been an animal advocate, especially for those living in shelters," said Tiffani Thiessen, actress and emBARK on Pet Health spokesperson. "Keeping my animals healthy and happy is of utmost importance to me which is why I decided to join Sergeant's Pet Care Products and American Humane Association. I'd like to help educate and empower pet owners with the tools and information they need for daily pet care to aid in a long and healthy life for their animals."
Providing your pet with consistent preventative care can save pet owners from having to deal with larger problems down the road and can add years to the life of a pet. This ongoing care can protect pets from disease, behavior problems or other health issues that if left untreated could eventually come to cost hundreds or even thousands of dollars.
"As pet owners and leaders in the pet care industry, we understand that pets truly are members of the family," said Patsy Sumner, vice president of marketing services. "We know owners want to keep these family members healthy, so it's our mission to ensure that we are a resource they can call on when they have questions regarding their overall health needs. The products and tools we provide are designed to ensure that pets and their families have long, happy and healthy lives together."
Each Pet Health Kit, estimated at a total retail value of $50.00, features the most popular Sergeant's products designed to keep pets healthy every day.
These products include:
• Sergeant's Whiff Shampoo
• PurLuv Sizzlin Strips
• SENTRY Petrodex Dental Kit
• SENTRY Calming Collar for dogs with Good Behavior pheromone technology
• Sergeant's Vetscription Joint Eze Plus
"We are honored to join Sergeant's Pet Care Products and Tiffani Thiessen on this campaign," said Dr. Robin Ganzert , president and chief executive officer of American Humane Association. "This is a very exciting program that has the potential to benefit millions of pets and families. We are hopeful that being able to include these Pet Health Kits in the adoption process will give families the confidence and tools they need for a successful start with their newest additions."
For more information about the emBARK on Pet Health campaign, including pet health tips and how you can take the pledge, visit www.embarkonpethealth.com. To be a part of the ongoing conversation about pet health, join Sergeant's Facebook page at Pet Health Central.
Source: PR Newswire