The Duchess of Cambridge confessed today that she is nervous about giving birth, as she showed off her baby bump for the first time at a public event.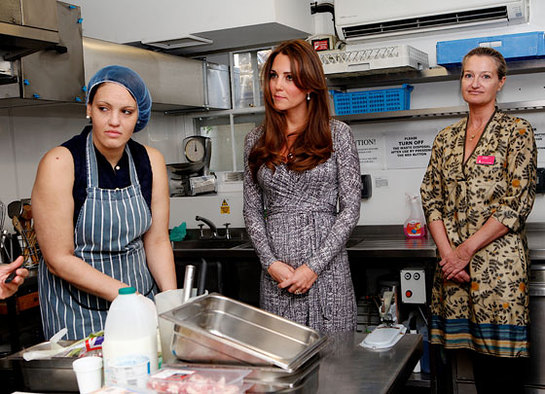 Her Royal Highness's admission came as she chatted to a group of women recovering from drink and drug addictions at a treatment centre run by the charity Action On Addiction of which she is Patron.
The Duchess spent time with an arts therapy group at Hope House in Clapham, South London, where the centre's clients had completed paintings charting their battle with substance abuse.
The Duchess chatted to Natalie, who has a two-year-old daughter and is due to give birth to a second child in July – the same month as The Duchess who is more than four months pregnant.
The 28-year-old said the talk also turned to babies when they chatted: "We're due about the same time. She's been unwell and feeling better now and I felt pretty much the same the first time."
The Duchess arrived at the treatment centre, which is based in a large period property in the leafy suburb, and was greeted by dozens of photographers, cameramen and journalists.
Wearing a MaxMara dress, she shook hands with Nick Barton, Action On Addiction's Chief Executive.
During the visit, The Duchess was taken to the centre's kitchen and watched as a lunch of chicken and bacon pasta with salad was prepared by some of the clients.
Some of the ingredients for the meal – packs of chicken and bacon and packets of brown pasta – were laid out on a table and Her Royal Highness asked one of the women who was chopping mushrooms: "Do you like the menus and do you enjoy the cooking side?"
She got the reply: "I find it very therapeutic."
The Duchess also made the chefs laugh by asking: "Can people get away with being fussy or not – if they don't like mushrooms?"
One of the staff told her the women have a low glycaemic index diet to control blood sugar levels to ensure they do not have highs and lows dictated by their meals.
The Duchess was making her second visit to the centre. Her first was a private trip she made to learn more about the charity Action on Addiction before becoming its Patron.
Hope House provides therapy for the women, who will have gone through a process of detox and are clean of alcohol and drugs but still need support before they are ready to return home.