Laila Ali, athlete, health advocate and mom, has been announced as the new campaign spokesperson for the Kids' Healthy Mouths public service advertising (PSA) campaign.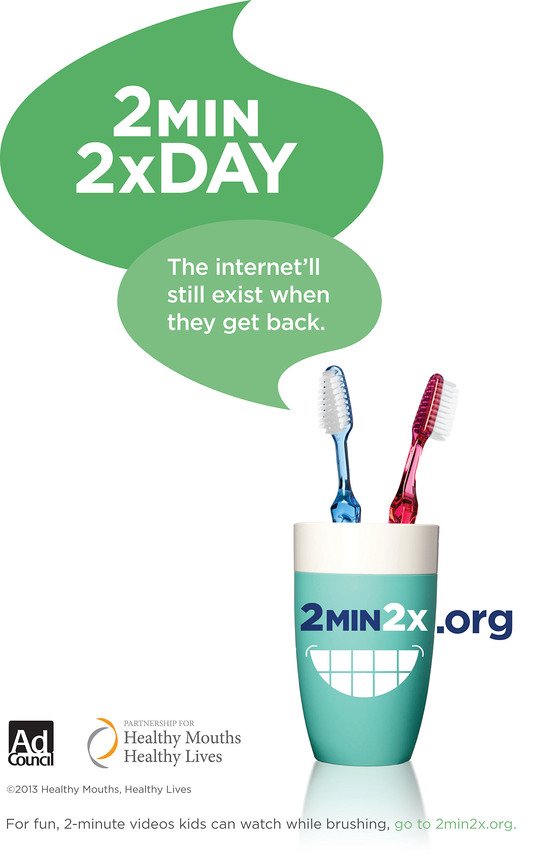 The campaign, developed by the Ad Council and a coalition of more than 35 leading dental organizations (The Partnership for Healthy Mouths, Healthy Lives), sheds light on the importance of children brushing their teeth – a basic task yet constant struggle for many parents.
Dental decay is the most common chronic childhood disease with more than 16 million kids suffering from untreated tooth decay in the U.S. Launched in August 2012, the English and Spanish-language multimedia campaign jokes about the silly things children spend their time doing when they could take 2 minutes, twice a day to brush their teeth.
"Not only can poor dental health affect children's overall health, it also can lead to significant school hours missed," said Gary Price of the Partnership for Healthy Mouths, Health Lives. "We are so pleased to have Laila on board to help elevate the importance of kids' oral health among parents and caregivers so that we can get more kids brushing properly, resulting in fewer cavities and oral pain."
Through a series of social media and public relations efforts, Laila Ali will extend our "Tooth To-Dos" to parents nationwide. These oral health tips include the following:
1. Make sure your kids brush with fluoride toothpaste for 2 minutes, twice a day.
• Use a pea-sized dab of fluoride toothpaste for kids ages 2 to 6, and use slightly more when they're older. Teach them to spit out the toothpaste when they're done so they don't swallow it.
• For kids younger than age 2, use a soft toothbrush and a little water; no toothpaste is necessary.
2. Teach your kids to floss between their teeth once a day, every day, to remove plaque and food where a brush can't reach. Kids' teeth can be flossed as soon as two of their teeth touch each other.
3. Start taking your child to the dentist regularly no later than age 1.
"As a mother, I know what it's like to try to wrangle your kids into brushing their teeth. But through my involvement with the Kids' Healthy Mouths campaign, I have also been reminded how important it is," said campaign spokesperson, Laila Ali. "I am looking forward to spreading the message that brushing for 2 minutes twice a day is essential for good oral health and that it can actually be fun and easy with the videos and tools available online."
The mouth is the gateway to a person's overall health, and an unhealthy mouth can be associated with obesity, diabetes and even heart disease. Additionally, oral disease disproportionately affects minority children and those from low-income families; these children have almost twice the amount of untreated tooth decay than others in the general population.
"Our research shows that less than half (44 percent) of parents report that their child brushes his or her teeth twice a day," said Peggy Conlon, president and CEO of the Ad Council. "Laila's role as a mother of young children and her commitment to healthy living make her the perfect partner for our Kids' Healthy Mouths campaign."
Created pro bono by ad agencies Grey Group and Wing in New York, the new Kids' Healthy Mouths public service campaign is the first in the Ad Council's 71 year history to address oral health.
For more information about the Kids' Healthy Mouths campaign visit 2min2x.org.
Source: PR Newswire