Artist Shepard Fairey is asking Los Angeles public school students to think creatively.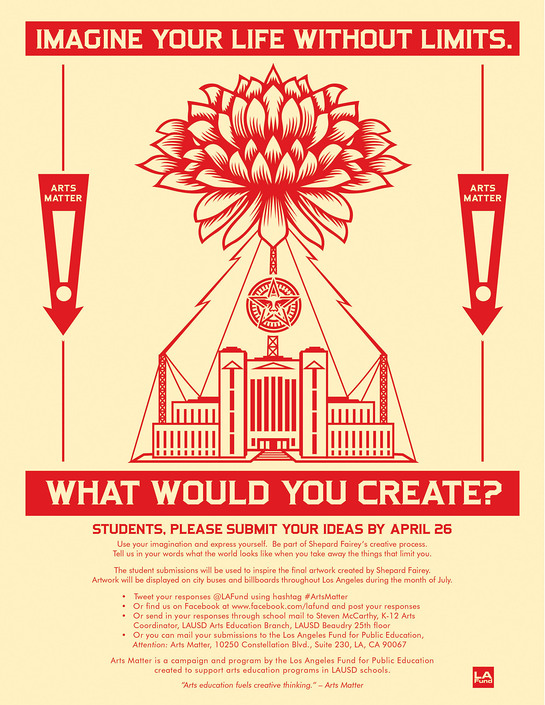 In designing the third installment of the Los Angeles Fund for Public Education's Arts Matter public art project, Fairey will create a design with inspiration from Los Angeles students. The resulting artwork will be displayed on city buses, billboards and other outdoor media throughout the month of July.
The request from Fairey, best known for his Obey Giant work and the 2008 "Hope" campaign image of Barack Obama, is being distributed by LAUSD teachers beginning today. Students are asked to "Use your imagination and express yourself," and tell Fairey, "What the world looks like when you take away the things that limit you." Students must reply by April 29, via Twitter (using hashtag #artsmatter to @LAFund), email, Facebook or by mail. Fairey will use the responses to inspire his final design.
Said Fairey: "Creativity is invaluable in student's lives because it cultivates problem solving, boosts self-esteem, and promotes communication. Students want to express themselves and find their voices. Art and music are outlets that manifest differently for every individual which provide a perfect antidote for the frustrations of homogeny. Creativity fosters imagination and independence, but builds community at the same time."
"We are thrilled that Shepard Fairey is part of this public art project which calls attention to the critical role arts and creativity should play in our students' lives. We need our students to be the creative thinkers of tomorrow, so it's incredible that Shepard Fairey recognizes this as an opportunity to excite and educate our students by asking them to 'imagine your life without limits,'" said LA Fund CEO Megan Chernin.
Next up for LA Fund is supporting school-based arts integration programs for LAUSD. "The Arts Matter campaign has already raised over $865,000 to bring arts integration to LAUSD schools beginning in August 2013. The public support for Arts Matter and LAUSD has been phenomenal. I am certain that our students will provide Shepard Fairey with the inspiration he needs to move our city in a very exciting way," explained Dr. Steven McCarthy, K-12 Arts Coordinator of LAUSD's Arts Education Division.
The Arts Matter public art project is made possible through the generous donation of outdoor media by CBS Outdoor, Clear Channel and other outdoor media companies. Artist Barbara Kruger created the first project and conceptualist John Baldessari the second, "Learn to Dream/Aprende a Sonar." Both addressed the essential nature of the arts in developing creative thinking. Donations from the general public, LA Fund board members and corporations such as Mattel, Inc. and Conde Nast also support the Arts Matter public art project and school-based arts integration program.
Founded in 2011, the Los Angeles Fund for Public Education is a philanthropic organization dedicated to driving positive change in the Los Angeles Unified School District. The LA Fund partners with LAUSD to invest in innovative, results-oriented programs designed to ensure every student in the nation's second largest school system has a chance to succeed.
For more information on LA Fund go to: www.lafund.org.
Source: PR Newswire