Meridian Health is pleased to present "Little Things: An Evening with Giuliana and Bill Rancic" at the Algonquin Arts Theatre in Manasquan on May 4, 2013 as part of Paint the Town Pink, a month-long event designed to raise awareness of the importance of annual mammography.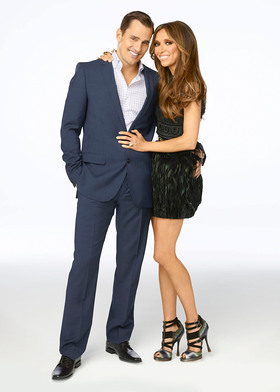 At this signature event, presented by Meridian Cancer Care, the couple will share how a mammogram forever changed their lives. A mammogram may seem like a little thing but it can be a life-saver. It was for Giuliana, which is why she and Bill have become tireless advocates for annual mammography and supporters of the mission of Paint the Town Pink.
Together, the couple has coauthored I Do! Now What? and currently appear in Style's Giuliana & Bill. Donald Trump 's original Apprentice, Bill Rancic is an entrepreneur and international speaker. As anchor and managing editor of E! News, Giuliana reports on celebrity news and has hosted many red carpet events.
The evening will begin with a pre-event cocktail party, featuring a PINK carpet at Firefly, 152 Main Street in Manasquan, at 7 p.m. As guests walk the pink carpet, they can tell Giuliana who they are wearing, and have a photo opportunity with the couple. Tickets for this exclusive Pink Carpet Event, which includes VIP seating at the show, are $125.
Doors open at the Algonquin Arts Theatre, 173 Main Street in Manasquan, at 8:00 p.m., and show time is scheduled for 8:30 p.m. General admission tickets are $50 and Premium Seating tickets are $75. Tickets are available by calling 855-PINK411.
For more information about Paint the Town Pink, visit www.PaintTheTownPink.com. Be sure to follow Paint the Town Pink on Facebook to see highlights of this year's campaign and for a complete list of Pink towns, events and activities.