Prince Harry was greeted by dozens of screaming schoolchildren as he arrived at the Headway charity in Nottingham during an official visit to the city yesterday.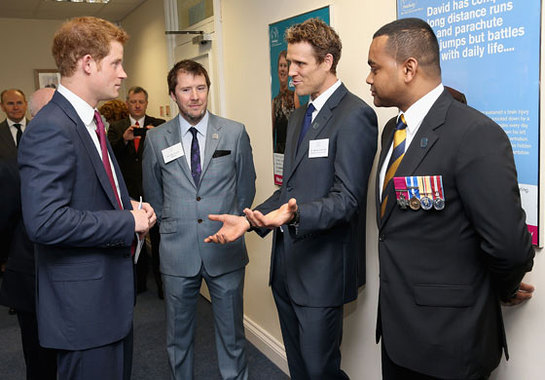 He was following in his mother's footsteps as Diana, Princess of Wales, was the royal patron of the charity between 1991 and 1996.


During his visit to officially open the charity's new headquarters, Prince Harry was tasked with changing a nappy with one hand as part of a workshop to show the Prince the effects that brain injuries can have on everyday tasks.
Struggling to fasten the sides of the nappy, he said: "This is exactly how my brother is going to be."

He joked: "All the mothers will be saying 'Don't let him near the children'."


Headway works across the UK to support people who have suffered brain injuries and their families.


Harry also met double Olympic gold medallist and Headway vice president James Cracknell and Sergeant Johnson Beharry, who have both suffered the effects of brain injuries.

The chairman of Headway, Andrew Green, said: "We are thrilled and delighted that Prince Harry agreed to visit us in our new home in Nottingham to learn of the work we do to support people affected by brain injury.

"Princess Diana's support of the charity greatly enhanced its profile and made more people aware not only of brain injury and its effects, but also of the help that was available.

"We hope Prince Harry's visit will help us achieve similar results and we offer our sincere thanks to His Royal Highness for taking time out of his busy schedule to support us in this way.
"It will be a momentous day in the history of the charity."
Prince Harry also met people involved with Learn 2 Learn Comprehensive which provides alternative education for young people and specialises in working with those who have been excluded or are at risk of exclusion from mainstream schools.
Source: PrinceHenryOfWales.org