Stand Up To Cancer (SU2C) is proud to unveil the second public service announcement (PSA) to feature Ambassador Heidi Klum, which will make its debut in PEOPLE magazine's World's Most Beautiful issue on newsstands now.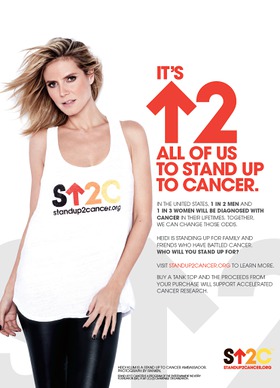 In the print PSA photographed by Rankin, Klum lends her signature style to the fight against cancer, posing in a white SU2C tank top and black leather pants. The PSA will also be featured over a number of billboards in Times Square.
The PSA will mark the second time Klum has posed for SU2C to raise awareness for all cancers. The highly anticipated issue hits newsstands April 26, 2013. Tank tops similar to the one worn by Klum can be purchased for $29.99 at the SU2C store here, and the proceeds will support accelerated cancer research.
"I hope you will join me and show support for Stand Up To Cancer," said Klum.
The PSA's message, "It's Up2 All of Us to Stand Up To Cancer," implores the need for ongoing participation from the general public in the fight against cancer. In the United States, one in two men and one in three women will be diagnosed with cancer in their lifetimes. Stand Up to Cancer is working to change those statistics.
"Heidi has been an unbelievable supporter of Stand Up to Cancer throughout the years," said Lisa Paulsen, co-founder of Stand Up To Cancer and CEO of the Entertainment Industry Foundation (EIF). "We are thrilled to have her lend her support once more for such a stunning campaign. It is our hope that others will join Heidi in her stand against cancer."
Stand Up To Cancer, a program of the Entertainment Industry Foundation, was created in 2008 to raise funds and hasten the pace of groundbreaking translational research that can get new therapies to patients quickly and save lives. By enabling the best and brightest investigators from leading institutions across the country and internationally to work together, SU2C's collaborative "Dream Teams" are pursuing the most promising research with the greatest potential to benefit patients. Stand Up To Cancer also awards Innovative Research Grants to individual investigators pursuing high-risk, potentially high-reward cancer research.