HEAD Tennis is joining (RED) and the fight against AIDS with the launch of a HEAD (PRODUCT)RED Special Edition bag collection.
Partnering to raise both awareness and money for the fight, 40% of the profits from each (HEAD)RED bag sold will go to the Global Fund To Fight AIDS.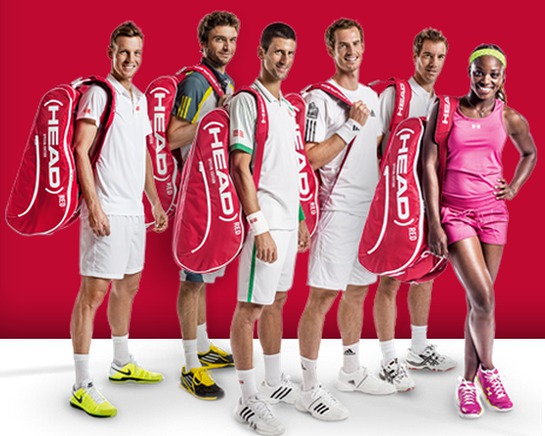 HEAD's world's best tennis players will showcase their support by carrying the (HEAD)RED Special Edition racquet bag on court at the upcoming French Open Grand Slam tournament in Paris.
In addition, HEAD asked its stars Maria Sharapova, Novak Djokovic, Andy Murray, Tomas Berdych, Marin Cilic, Gilles Simon and Sloane Stephens to pack their favourite items into one special (HEAD)RED bag which features in a unique viral video.
The spot, which launched yesterday on www.youtube.com/headtennis, will promote the partnership across digital and social media. Furthermore, a bespoke app on www.facebook.com/headtennis gives tennis fans the chance to show their support and win the special (HEAD)RED bag with the personal items and signatures of the HEAD tennis stars.
"We are extremely proud to join a family of leading global brands supporting (RED) in the fight for an AIDS free generation", says HEAD CEO Johan Eliasch. "I would like to thank our players for their support and invite tennis fans and players around the world to join HEAD and (RED) in this worthy and important cause."
"It's fantastic to see a brand as iconic as HEAD partner with (RED) raise funds and blow out awareness of the fight against AIDS at an event as high profile as the French Open. Tennis fans right around the world will love these fantastic bags!" says Deborah Dugan, CEO (RED).
The new (HEAD)RED collection is the latest addition to the range of (RED) products. It includes a tennis racquet bag and a backpack, which will be available at selected retail stores around the world at the end of May 2013.
Click here for a chance to win the signed bag.
For more information please visit www.head.com/tennis and www.joinred.com.