Ninety percent of kids don't eat the recommended amount of veggies each day and summer is an ideal time to try a new approach. Nickelodeon's Sam & Cat star Jennette McCurdy is on a mission to put the play back on the plate.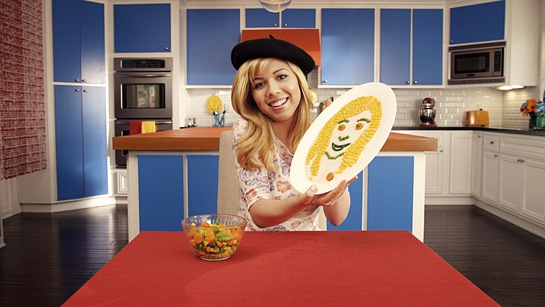 She's teamed up with Birds Eye Vegetables for a multi-week challenge for families to seize the fun and Rewrite the Dinnertime Rules leading up Nickelodeon's 10th annual Worldwide Day of Play this fall.
In addition to playing with their veggies and enjoying more relaxed family dinners, this summer kids and parents can also enter for a chance to win an all-expense paid trip to join Jennette McCurdy at Nickelodeon's Worldwide Day of Play flagship event. Through this campaign families have an opportunity to learn new ideas that could help shape a lifetime of healthy eating. Each week kids can follow along online at Nick.com/BirdsEye for veggie-themed games and exclusive behind-the-scenes videos with McCurdy. Parents should visit www.BirdsEye.com for easy advice on getting kids to eat their veggies, more dinner "rules" and recipe ideas created for and tested by kids. The sweepstakes deadline is August 26 at noon.
"I'm excited that kids get to be in charge of the dinner rules this summer!" McCurdy says." I'm passionate about kids eating their veggies and can't wait to see the ideas from families out there."
Rewriting the Rules Inspiration

McCurdy and Birds Eye have the following suggestions for getting started Rewriting the Dinnertime Rules. These rules are only the beginning, McCurdy says. "Kids have endless imagination—veggie tacos, veggie faces, veggie 'try' outs and on and on. Rewriting the rules means letting them put the fun in the picture. I had so much fun filming as I played with my Birds Eye veggies, so I hope kids will watch my videos and they will provide inspiration!"
Rule #1: Role Reversal. Kids pick the menu and the veggies, help shop for the groceries and are in charge (with a little help from mom and dad) in the kitchen. Plus, they get to pick the theme and dress and decorate accordingly, whether it's hitting the "beach," bringing out your family's wild side in the "jungle" or cheering on your favorite sports team.
Rule #2: Play with Your Birds Eye Veggies! You can use your veggies to make smiley faces or create colorful rainbows on your plate … you can even give your broccoli a mohawk haircut (really!) – just have fun!
Rule #3: Celebrate Every Bite. It can take up to 12 times for a kid to try a new type of veggie, or any new food before he or she begins liking it. So, keep it up! And while you're at it, give yourself a high five for every bite your kid takes.
Rule #4: Be a Veggie Explorer. There are all sorts of cool and surprising ways to serve veggies. Like smoothies (mixed veggies with yogurt, OJ and honey), popsicles (carrots and OJ) and salad dressings (carrot ginger). You AND your kids will be amazed at all the cool ways you can eat your veggies.
The Birds Eye and Nickelodeon partnership is in its second year. In 2012, the program drove a 20 percent increase in incremental volume for Birds Eye versus 2011. Not only did last year's program drive brand sales and overall category growth, the effort helped in reversing a negative trend in the category and increased vegetable consumption in a fun, engaging way.
The program also is part of Birds Eye's commitment to the Partnership for a Healthier America (PHA), which works with the private sector and PHA Honorary Chair First Lady Michelle Obama to end childhood obesity within a generation.
First Lady Michelle Obama has lauded Birds Eye's innovative approach to inspiring kids and helping support families in healthier eating.
"This year's program is about getting kids to try new vegetables by making dinner time fun for them. We know that when kids are involved in the dinner process, they are more likely to want to eat what they helped create," said PHA Chief Marketing Officer Drew Nannis. "Birds Eye is showing not only that companies can be a positive, proactive part of making the healthy choice easier for kids, but also that they can be profitable while doing it."
Along with the consumer education programs and contests, this summer Birds Eye has launched an entire new product line called Recipe Ready that helps families save time with ingredient ready, fresh frozen vegetables assortments for the most popular meals we cook today. With more than 20 vegetable combinations for meals like fajitas, beef stew, pasta primavera, stir fry and grilling favorites, the Recipe Ready product line cuts down on the prep work of gathering and prepping the vegetables so instead of slicing and dicing the cook can focus on the rest and deliver weeknight meals more often.
"When families eat dinner together more often, children receive many benefits including better eating habits," Birds Eye Senior Vice President of Marketing Rodrigo Troni said." We believe our product and programs are helping make a difference."
Consumers can enter the Rewrite the Dinnertime Rules sweepstakes, receive weekly ideas for increasing family fun with kid-friendly veggie-eating ideas and more at Birdseye.com or by following the brand page at Facebook.com/BirdseyeVegetables.
Source: PR Newswire