Treat, the greeting card service from Shutterfly, Inc., today announced its exclusive Celebrity Birthday Card Collection in collaboration with two very funny and likeable entertainers – actor, producer, writer and director Seth Rogen and television actress Sarah Chalke.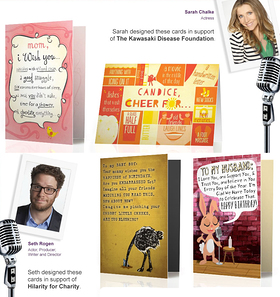 Rogen and Chalke contributed jokes, sentiments and anecdotes for Treat's customizable cards. With the launch of the new celebrity birthday cards, Treat made a charitable donation in Rogen's name to Hilarity 4 Charity and in Chalke's name to Kawasaki Disease Foundation. Treat's exclusive Celebrity Birthday Card Collection is available online at www.treat.com/celebrity-cards and on Treat's App for iPhone.
"At Treat, we know there are many ways to say "Happy Birthday," and we adore Seth and Sarah's signature wit in this exclusive line of birthday cards," said Melissa Moody, Treat card expert. "With the combination of Seth's tongue-in-cheek humor and Sarah's playful sentiments in Treat's Celebrity Birthday Card Collection, customers can create truly unique birthday cards for friends and family with photos and personal notes that will be cherished."
Celebrate every birthday with a personalized card from Treat. With 700 unique birthday designs to choose from, you're sure to find the perfect card to express your sentiments and style. Treat's cards are a more personal way to say Happy Birthday to friends and family unlike a generic store-bought greeting card. Plus, you can add a personalized gift or gift card to top retailers for an extra surprise. Also with Treat's convenient scheduling service customers can create and schedule their cards to be delivered up to a year in advance, so that important occasions are never forgotten. And Treat's reminder service will remind you of upcoming events like birthdays and other celebrations. Simply create your custom card directly at Treat.comor on Treat's App for iPhone, and they'll do the rest!
To order one of Treat's new exclusive Celebrity Birthday Cards, visit www.treat.com/celebrity-cards.
Source: BusinessWire.com