Autism Speaks, the world's leading autism science and advocacy organization, proudly presents its third annual BLUE JEAN BALL, honoring Autism Speaks Board of Directors' Member Chuck Saftler.
Saftler, who is President of Program Strategy and Chief Operating Officer of FX Networks, is being honored for his dedication to autism awareness. Presented by The GUESS? Foundation, the BLUE JEAN BALL will take place Thursday, October 24, 2013, at Boulevard 3 in Hollywood.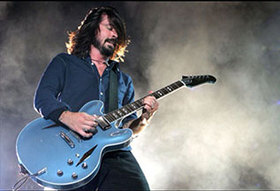 The headline attraction of the evening will be a special acoustic set by Grammy® Award-winning music legend Dave Grohl. In addition, The White Buffalo with singer/songwriter Jake Smith (Shadows, Greys and Evil Ways) will perform.
Hosting the event will be television personality Maria Menounos (Extra) and Emmy® Award-winning Actor Michael Chiklis (The Shield, Vegas, The Commish). Artist John Matos (CRASH) will premiere a limited edition print dedicated to Autism Speaks. World-renowned DJ Splyce will be providing entertainment throughout the evening.

The Autism Speaks BLUE JEAN BALL is dedicated to raising awareness and funds for innovative autism research and resources for individuals and families affected by the disorder. Tickets, sponsorship opportunities and additional information are available at events.autismspeaks.org/bluejeanball.
"We are proud to honor our good friend Chuck Saftler, and to acknowledge his tireless efforts in raising funds and awareness for the autism community," said Liz Feld, president of Autism Speaks. "Chuck and his wife, Colleen, are champions for the cause. What a perfect year to recognize his contributions to our mission, given the success of FX's The Bridge, featuring a very real character on the autism spectrum." Feld continued, "We are thrilled and grateful to have the talented Dave Grohl perform. Dave has been an advocate for all children and we are so thankful for his contribution to our cause."
"One in 88 children is currently diagnosed with autism, and the annual cost for families living with the disorder is an average of $60,000," added Matt Asner, Executive Director of Southern California for Autism Speaks. "Now, more than ever, we need to raise awareness and assure that research, advocacy and family service initiatives continue to be funded. What better way to make a little noise than with a rock and roll concert?"
"The BLUE JEAN BALL has become one of Autism Speaks' signature special events and second largest fundraiser in Southern California," said 2013 event Co-Chairs and Board of Directors' members Nikki Pesusich of Coterie Media and Georgianna Junco-Kelman, Special Education Attorney. Past participants and honorees have included Sarah McLachlan, Toni Braxton, Paul Marciano, photographer Rob Shanahan, Sinbad, Brooke White, Raphael Saadiq, Sarah Shahi, Beth Reisgraph, Nikki Reed and Paul MacDonald, among others.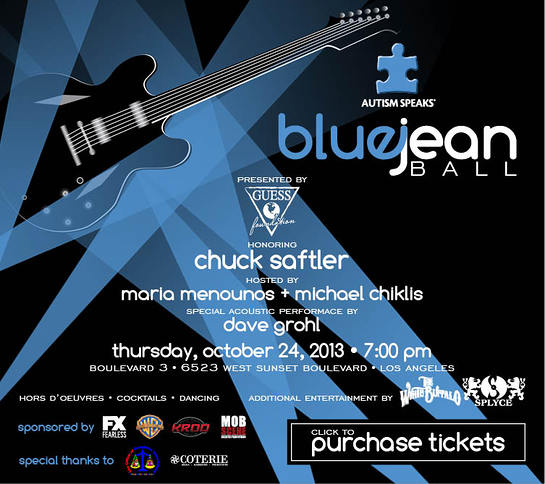 About Autism
Autism is a general term used to describe a group of complex developmental brain disorders – autism spectrum disorders – caused by a combination of genes and environmental influences. These disorders are characterized, in varying degrees, by communication difficulties, social and behavioral challenges, as well as repetitive behaviors. An estimated one in 88 children in the U.S. is on the autism spectrum – a 78 percent increase in six years that is only partly explained by improved diagnosis.
About Autism Speaks
Autism Speaks is the world's leading autism science and advocacy organization. It is dedicated to funding research into the causes, prevention, treatments and a cure for autism; increasing awareness of autism spectrum disorders; and advocating for the needs of individuals with autism and their families. Autism Speaks was founded in February 2005 by Suzanne and Bob Wright, the grandparents of a child with autism. Mr. Wright is the former vice chairman of General Electric and chief executive officer of NBC and NBC Universal. Since its inception, Autism Speaks has committed nearly $200 million to research and developing innovative resources for families. Each year Walk Now for Autism Speaks events are held in more than 100 cities across North America. On the global front, Autism Speaks has established partnerships in more than 40 countries on five continents to foster international research, services and awareness. To learn more about Autism Speaks, please visit AutismSpeaks.org.