One A Day Women's, Feeding America and Sheryl Crow are celebrating heroes on a "Nutrition Mission" to fight hunger in local communities.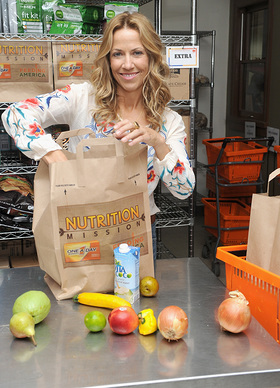 Food insecurity is a problem in America, with some low-income families having to choose, at times, between buying food essentials and paying the rent or other basic living expenses.
More than 50 million Americans live in food-insecure households. This Hunger Action Month, the One A Day Women's Nutrition Mission — an ongoing, national charitable campaign with Feeding America — is celebrating and honoring those who make exemplary efforts to fight food insecurity and hunger in their communities. Like Jeane Larkins, who, with several local community organizations in Denver, has delivered hundreds of food "PowerSacks" – each of which can feed a family of four for an entire weekend. Larkins, a volunteer making a real difference, is one of several outstanding community volunteers being honored by long-time hunger advocate and nine-time Grammy Award winner Sheryl Crow, Bayer HealthCare, the maker of One A Day Women's, and Feeding America, the nation's leading domestic hunger-relief charity.
Through the One A Day Women's Nutrition Mission, grants totaling $100,000 are being awarded on behalf of Larkins and three other volunteers who are making a real difference to support their local food banks in their meaningful work. To date, the One A Day Women's Nutrition Mission has donated four million meals to Feeding America's network of more than 200 food banks which helps distribute food through 61,000 food pantries, soup kitchens, and shelters in communities across America.
Given their passion, Crow and Larkins, the top grants competition winner, will roll up their sleeves this September 12th and volunteer at West Side Campaign Against Hunger, a partner agency of Food Bank for New York City, while creating greater awareness of this national issue.
"As a local volunteer myself, I constantly encounter incredible people who are committed to helping those in need. I was amazed by the hundreds of stories that were submitted to Nutrition Mission about fighting hunger across the country," says long time hunger advocate and Feeding America volunteer, Sheryl Crow. "I'm excited to be teaming up again with One A Day Women's and Feeding America this Hunger Action Month to recognize volunteers across the country but beyond today, there is still so much more work to be done. The fight against hunger starts locally and together we can make a real difference."
"The makers of One A Day Women's and Feeding America share a commitment to providing nourishment for women, the families they care for, and the communities in which they live," says Manuela Buxo, Vice President, Nutritionals Marketing & New Business at Bayer HealthCare. "We've seen remarkable participation by consumers in the Nutrition Mission for a second year, which has resulted in 2 million meals a year being donated, and we're proud to today announce these grant winners."
"Our nationwide network of food banks helps feed more than 37 million people in America annually. We're thankful for the generous donation by the makers of One A Day Women's and for all of the wonderful volunteers who give their time and energy to help nourish their neighbors in need," says Leah Ray, Vice President of Corporate Partnerships, Feeding America. "We also congratulate these four volunteers, who not only won Nutrition Mission grants for their local food banks but also show true dedication in the fight against hunger."
To learn more about the Nutrition Mission, the winning entries and corresponding food banks, and how to help fight hunger locally, visit www.NutritionMission.com.
Source: Multivu.com