Celebrities, Los Angeles animal lovers and their dogs turned out in droves to strut their stuff for Best Friends Animal Society's Strut Your Mutt at Woodley Park in Van Nuys.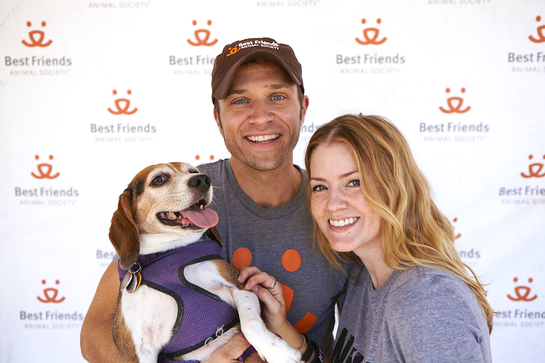 Strut Your Mutt is a multi-million dollar fundraiser benefiting hundreds of shelters and rescue groups with similar events across the country. Sunday's event in Los Angeles drew thousands of participants in support of animal welfare organizations in the area, including Best Friends Animal Society.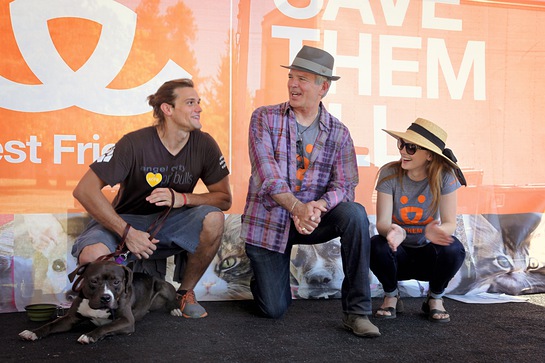 Actress Rachelle Lefevre, star of the popular CBS television series "Under the Dome," was one of several Best Friends celebrity ambassadors at the event.
"The animal rescue community is made up of so many tireless people working with multiple organizations," Lefevre said. "Not only does Strut Your Mutt raise money and awareness for an amazing cause, it also brings people from different groups together to celebrate their progress and share their passion for animals."
This year's nationwide fundraising goal set by event organizer Best Friends Animal Society for 240 local animal shelters and rescue groups is $2 million. Donations raised through Strut Your Mutt helps fund adoptions, spay/neuter services, and other life-saving programs, ultimately impacting the number of pets entering and leaving the shelters. Last year, $1.3 million was raised for some 180 groups.
Strut Your Mutt allows participants to raise funds online in advance then celebrate together with fellow animal lovers and multiple rescue groups/shelters during and following the walk. Sunday's event featured entertainment by emcee and comedian Rebecca Corry, an appearance by the Los Angeles Laker Girls, activities such as doggie yoga and massage, paw readings, and food trucks. Sponsors included BarkBox, Bob Smith MINI of Calabasas, Natural Balance, Petco Foundation and Petfinder.com.
Celebrity spouses Seamus and Juliana Dever, who play a married couple on "Castle," enjoyed the festivities.
"We are so happy to see all these local rescue groups come together for a common cause," said Juliana Dever. "It's also amazing to see so many rescue dogs that now have forever homes."
"Strut Your Mutt is a great fundraiser and a fun way to bring attention to the cause of making Los Angeles a no kill city," said Seamus Dever.
Other celebrities in attendance included Miguel Ferrer ("NCIS: Los Angeles"), Hartley Sawyer ("The Young and the Restless"), Concetta Tomei ("Necessary Roughness"), Emma Kenney ("Shameless"), Shannon Elizabeth ("American Pie"), Brandon McMillan ("Lucky Dog"), Jes Macallen ("Mistresses"), Jason Gray Stanford ("Monk"), Tony Denison ("Major Crimes") and celebrity trainer/fitness expert Ashley Borden.
The Los Angeles Strut Your Mutt also served as the launching pad for Best Friends' national call to action Save Them All, which focuses on ending the killing of shelter pets in America.
"When we started Best Friends, the conventional wisdom was that killing homeless pets was an unfortunate but unavoidable fact of life," said Gregory Castle, Best Friends' chief executive officer. "Back then, every day, some 45,000 animals were being killed in our nation's shelters. Best Friends was one of the very first organizations to challenge the idea that killing animals in shelters was acceptable. And the number has dropped to 9,000 every day, but that number can be zero and should be."
For close to 30 years, Best Friends Animal Society has been working to reduce the number of deaths and put an end to this senseless killing once and for all, Castle continued. "We believed then and believe now that together we can save them all. Strut Your Mutt is a celebratory way for the shelters and groups to come together and invite the public to join them and Best Friends in the fight to save shelter animals' lives," Castle said.