By Delinda Lombardo on
Legendary surfer, environmental activist and musician, Rob Machado, is hosting his Second Annual Benefit Concert for the Rob Machado Foundation on Monday, November 11, at The Belly Up in Solana Beach, California.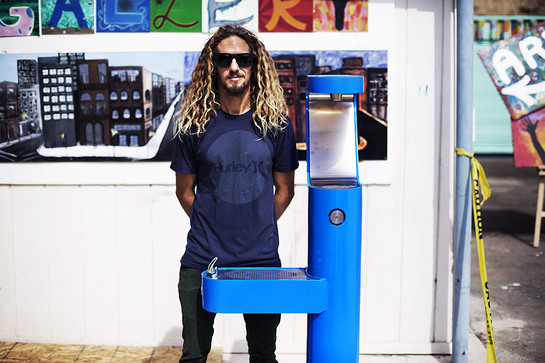 Jason Mraz will be performing acoustic and The Goo Goo Dolls frontman John Rzeznik, who played last year's sold-out RMF concert, will return for a special solo acoustic set. Breakout Los Angeles band Run River North round out the bill.
The stellar line-up is a selling point, but the quick sell-out also pays tribute to the non-stop activism and improvements Machado has been giving back to his community, and the world.
Through his foundation and partnerships he's been working with students in the community to design gardens that can supply school cafeterias; has installed water refill stations at high schools to eliminate single use water bottles; installed new trash bins (made from 100% recycled and reclaimed materials) on the beaches in Cardiff; and delivered clean water and water filtration systems to Bali, Nicaragua and Brazil.
Look to the Stars was excited to speak to the wave-dancing humanitarian about clean water, giving-back and the state of our oceans.
We are less than a week away from your Second Annual Benefit Concert for the Rob Machado Foundation, tell us a little bit about the progress you've made this last year? Any Milestones?
One of the main programs we've been working on this year is Hydration Nation, which is getting water back into the schools, basically free water. The idea came from a visit I made to my old elementary school, the kids were laughing at me when I went to drink out of one of the old drinking fountains. I said 'what you guys don't drink out of the water fountains' and they said no, they're disgusting. Then I went to the cafeteria where they sell a lot of bottled water to these kids and I was like are you kidding me? You'd think water would be free at high schools or elementary schools, but no. So I've been putting in these fountains and empowering the kids to start a water club and sell stainless steel water bottles with the goal to eliminate plastic from the campuses. When I was a kid the concept of buying bottled water didn't exist.
And you're building gardens as well?
Yeah, our Growing Your Own Lunch Program is going really well. I have parents coming up to me all the time asking 'how did you get my kid to eat lettuce, what did you do?' and I said well, when they grow their own food they are proud, they want to eat it, it's not something to just put on a plate.
There was a disturbing article which was recently published, The Ocean is Broken written by Ivan Macfadyen who sailed from Melbourne to Osaka, then Osaka to San Francisco. He speaks about the lack of sea life – no birds, no signs of life at all – basically just debris everywhere. Is this an issue that is showing up among surfers – the amount of debris in the ocean or are surfers more focused on beach cleans up? Personally, I've never seen a surfer litter.
First off, you're right, surfers are the ones usually picking up trash most of the time on the beach because they know its all going to end up in the water anyway, but I hear what you're saying, I've heard there is a giant plastic island floating in the Pacific, and I've heard there's been attempts to document it but I haven't seen much on it educational wise. I was just in Hawaii and when you say something like that -it's a pretty bold statement – I was literally paddling this canoe and a giant pod of dolphins were swimming with us and the water is crystal blue and so when I hear this statement – that's pretty bold.
That the ocean is broken?
Yeah, he makes it sound like it's a total wasteland.
That's what's so shocking, he had done the trip ten years earlier and there was an abundance of life out there compared to now. But here on dry land, what would you say is the most pressing need on our community?
I think its just a constant need for education as far as the environment is concerned, even something as simple as recycling. I've been at my friends house sometimes and I literally just pull things out of their trash to put in the recycling bin. I think people don't know sometimes what's recyclable, you know the triangle at the bottom has a number. A lot of people don't know if they can recycle an item. If you educate people you can make them aware. I think we are on to it, I think schools are constantly evolving and there is more education happening.
I just had a vision of a reality show where you go dig through peoples garage to education them?
LOL Its pretty funny, if you recycle everything there is to recycle and compost everything that's compostable, you really don't have that much trash left.
I'm pretty sure that you, Waves for Water founder Jon Rose and Kelly Slater could save the world, is there any other 'tribe' member that should be added to the list of those making serious progress in the areas of clean water and battling GMO's?
I'm not too educated on the GMO"s right now but there are definitely other people, throw in Eddie Vedder and Ben Harper, those guys have incredible reach as well.
If you had a theme song what would it be?
Um, there's a good Ben Harper song "With my Own Two Hands' or 'Excuse Me Mister'.
Any surprises at this year's show?
There are always surprises, but if I told you it wouldn't be a surprise.
Many thanks to Rob Machado for taking the time to chat with us and to Shannon Cosgrove from BB Gun Press for setting it up.
For more info, please visit The Rob Machado Foundation.