PETA has released a limited-edition stamp sheet featuring famous vegetarians.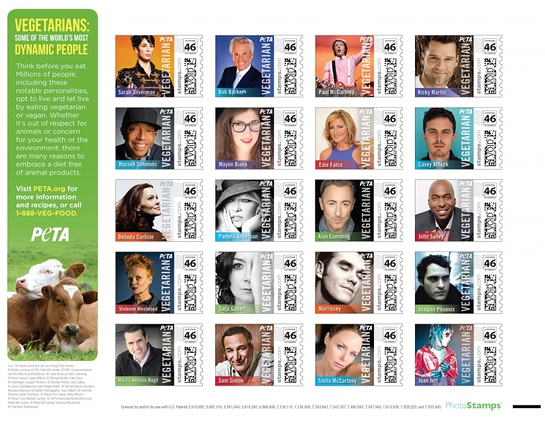 The stamps were launched this week at events in New York and Los Angeles. Twenty famous vegetarians appear on the sheet of U.S. Postal Service–approved photo stamps out just in time for holiday cards.
The New York launch was attended by Joan Jett and Alan Cumming, while the Hollywood event saw Russell Simmons, John Salley and Marco Antonio Regil unveil the campaign.
Simmons, who has been vegan for more than 12 years, has called the meat industry "maybe the worst disaster in human history—15 billion suffering farm animals. And I don't want to participate in it." Regil's empathy for animals prompted him to go vegan, too. "Can you imagine the terror that a live being should feel when … they're seeing other animals being slaughtered?" the Mexican game show host asks. "It just completely breaks my heart."
Meanwhile, Salley first thought about going vegan after sampling the delicious plant-based food on the set of his 2007 PETA shoot—and he wishes he'd made the change sooner. "If I had a vegan lifestyle when I was playing, I would still be playing," he says.
Joan's vegetarian activism landed her in a national controversy this week, when South Dakota ranchers objected to the rocker's planned performance on their state's float in the Macy's Thanksgiving Day Parade. This week, Joan jettisoned herself from the float, just in time to unveil her vegetarian icon stamp for PETA. Alan Cumming, who is in New York filming the CBS series The Good Wife, says, "I just don't like meat. Rotten carcasses don't feel good inside in my body."
The limited-edition stamp sheet, which also features Paul McCartney, Russell Simmons, Ricky Martin, Sarah Silverman, Edie Falco, Mayim Bialik, Casey Affleck, Joaquin Phoenix, and many others, is available for purchase at PETA.org.
Source: PETA